Paul Pogba
'Pogba is not a world-class player because he'll let you down'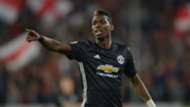 Former Premier League winning midfielder Damien Duff has criticised Paul Pogba for making too many mistakes, claiming he is "not a world-class player".
Pogba has come under fire from numerous pundits for not living up to his £89 million price tag at Old Trafford, while Manchester United manager Jose Mourinho did not feature him in his starting XI for the last two games.
Due to an early injury, he came off the bench after just 17 minutes to play most of United's 0-0 draw with Sevilla on Wednesday, but ex-Chelsea player Duff was once again unimpressed and hit out at Pogba for not making the most of his ability.
"He doesn't have that defensive mindset, he doesn't smell danger and he gives away goals," Duff told TV3. 
"An alarming thing for me is top players, if they make a mistake, they won't make it again, probably in their career.
"The goals he gives away, people always running off him, he hasn't grasped it. He's had Massimiliano Allegri, he's had Antonio Conte, he's had Mourinho, three amazing, top coaches and if he hasn't grasped that by now... I think he's 25 in a couple of weeks. That's worrying for me.
"I think he has world-class ability, but he is not a world-class player because he'll let you down."
Mourinho defended Pogba after the scoreless draw, claiming he was happy with the impact the 24-year-old had from the bench after replacing the injured Ander Herrera.
"Of course he lost a couple of possessions, but he also gave us stability because he gave us a good percentage of possession for the way we play and the match away to a good team like Sevilla," Mourinho told reporters.
"We had a good percentage of the ball and some control of the game, I think the three midfield players had good control and Paul was part of it."
Pogba has three league goals for the Red Devils this season, but has failed to find the net since November in the Premier League.