Super League
Perak Stadium ordered to improve pitch conditions by FMLLP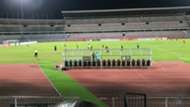 Perak and PKNP FC could face having to find a new home for the rest of the 2017 season following orders to close Perak Stadium.
Football Malaysia Limited Liability Partnership (FMLLP) today released a press statement on the closure of Perak Stadium due to poor conditions of the pitch following inspection done on 11 July 2017. 
This initial closure is for the period of seven days immediately after the completion of the PKNP v Johor Darul Ta'zim II Premier League match on Friday 14 July 2017 and will end before the next Super League match between Perak and Felda United scheduled to be played on 22 July 2017.
Improvement works are expected to be done during this one week period after which FMLLP will make a decision as to whether the field is fit to be used for competitive matches.
The week-long closure will impact PKNP's match against Negeri Sembilan that is scheduled for 18 July 2017. The club side are to submit an alternative venue suggestion to FMLLP for that particular game.
In the past months, the field at Perak Stadium has shown to have suffered under severe weather conditions with puddles of water and muddy conditions witnesses particularly during Perak matches. Perak's head coach Mehmet Durakovic has also spoken out previously at the poorly managed field at the stadium.
During the times when Perak Stadium has been under refurbishments, Perak has played their matches at the Navy Stadium in Lumut and if the conditions aren't improved - that looks the likeliest option for both Perak and PKNP to base their respective home games for the rest of the season.