World Cup
Ochoa: Why Germany win changes nothing for Mexico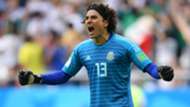 Mexico goalkeeper Guillermo Ochoa says Germany's come-from-behind victory against Sweden on Saturday doesn't change anything for El Tri.
A draw between the two teams would've secured Mexico's place in the knockout stages of the World Cup, but Toni Kroos' late goal gave the Germans a 2-1 win and means Mexico will need a point against Sweden on the final day to be assured of a place in the round of 16.
Ochoa said Mexico's players learned of the result when they arrived to the airport in Rostov-on-Don as they headed back to their Moscow base camp. The 32-year-old says even had they been assured of moving on, a result would've been needed against Sweden simply because of El Tri's desire to win and top the group with nine points.
"We hadn't done any sort of mathematical calculations," he said at a news conference Sunday morning. "We knew that we were going to pay for first place against Swede. This result wasn't going to change anything."
The goalkeeper had four saves in Mexico's 2-1 win over Korea on Saturday as El Tri earned consecutive wins at a World Cup for the first time since the 2002 World Cup in Korea and Japan. Many fans in Mexico are targeting the fifth game as a marker for success, with Mexico getting stuck in the round of 16 in each of the last six attempts.
Internally, though, Mexico's players have spoken about achieving even more than getting to the quarterfinals for the first time on foreign soil.
"My dream, along with that of my team-mates, is for us to stay here until the very last day. It's something that I believe in, that I feel, that I'm imagining and that I'm wishing for and nobody here or anywhere else is going to keep me from dreaming in that," Ochoa said.
"It's worth dreaming when you're in a tournament like this. Everyone wants to be there on the last day, but I think this national team wants it more than the others."
Ochoa says the way to prove that desire is by playing well, and there is no doubt in the shot-stopper's mind that he and his team-mates will be coming out swinging in Wednesday's game against Sweden.
"This group is able to keep competing, to fight for three points in the next game. Our goal is clear: It's to finish first in the group," he said. "We have it in front of us, it's in our hands, it depends on us, we're not depending on anyone else so in the next few days we're going to prepare to go and take it.
"We're a national team whose goal is to go after games, to stand out, become protagonists and the way to do that is to play good soccer on the field. There will be moments where you're struggling, but you have to know how to do it. Other teams also push and look for results, so you have to be physically and mentally ready."