MLS
NYCFC star David Villa named 2016 MLS MVP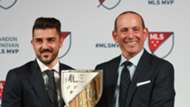 David Villa was named Major League Soccer's MVP on Tuesday after scoring 23 goals and adding four assists for New York City FC during the 2016 season.
Villa was the first player signed by NYCFC when the club joined the league prior to the 2015 season. After missing the playoffs in its inaugural season, the 35-year-old forward led the club to a second-place finish in the Eastern Conference behind crosstown rival New York Red Bulls.
Goal believes Giovinco was the real MVP
"I'm very proud to represent NYCFC and to receive this award," Villa said. "It's a big day for me because this is one of the things I said I wanted to do when I came here two years ago.
"This is an important day in my career — this is an important moment for me. This award is for the best player in this amazing league which has many quality players so this is a very happy and proud day for me."
The former Spain international beat out New York Red Bulls duo Sacha Kljestan and Bradley Wright-Phillips for the Landon Donovan MVP Award, receiving 25.9 percent of the total votes.
Wright-Phillips, the Golden Boot winner with 24 goals, finished second with 19.3 percent of the votes cast by players, media and club management. Kljestan, who led the league in assists with 20, had 17.6 percent of the votes. 
The Captain. The MVP #MVillaP pic.twitter.com/l6g2VrivVx

— New York City FC (@NYCFC) December 6, 2016
Toronto FC's Sebastian Giovinco came in fourth place despite receiving the same amount of media votes as Villa and Wright-Phillips. The fact he missed six games through injury likely played a part in the Italian missing out on his second straight MVP award.
Previous MLS MVP award winners:
2015: Sebastian Giovinco – Toronto FC
2014: Robbie Keane – LA Galaxy
2013: Mike Magee – Chicago Fire
2012: Chris Wondolowski – San Jose Earthquakes
2011: Dwayne De Rosario – D.C. United
2010: David Ferreira – FC Dallas
2009: Landon Donovan – LA Galaxy
2008: Guillermo Barros Schelotto – Columbus Crew
2007: Luciano Emilio – D.C. United
2006: Christian Gomez – D.C. United
2005: Taylor Twellman – New England Revolution
2004: Amado Guevara – New York/New Jersey MetroStars
2003: Preki – Kansas City Wizards
2002: Carlos Ruiz – LA Galaxy
2001: Alex Pineda Chacon – Miami Fusion
2000: Tony Meola – Kansas City Wizards
1999: Jason Kreis – Dallas Burn
1998: Marco Etcheverry – D.C. United
1997: Preki – Kansas City Wizards
1996: Carlos Valderrama – Tampa Bay Mutiny