Tanzania U20
Ninje appointed new head coach of Tanzania U20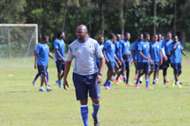 Ammy Ninje has been appointed Tanzania U20 (Ngorongoro Heroes) interim coach ahead of two friendly matches before heading to AFCON qualification ties with DRC Congo, the Football Association announced.
The team will be on the pitch on Saturday to host Morocco then four days later will welcome Mozambique in the friendly matches.
On March 31, there even a tougher job wereby Ngongorongo will host DRC Congo in AFCON qualification first leg tie before heading to the second leg in Kinshasa.
The most recent job for Ninje was to manage Kilimanjaro Heroes (Tanzania National Team without the featuring of Zanzibar players) and he was perform nearly poor in the CECAFA Senior Challenge Cup held in Uganda after exit in group stage without even a single win.