Opinion
Necaxa belongs in Liga MX, but does it belong in the final?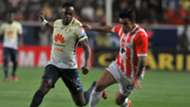 Necaxa is still in the Liga MX Apertura playoffs after a 1-1 draw with Club America in the first leg of their semifinal. There's no doubt the team belongs in the top division, with Thursday's draw the latest result in a surprisingly strong season just months after returning to the first division.
Alfonso Sosa, the coach that has his team way deeper than anyone projected, has shown a good sense of how to game plan for individual matches, with his bunker against Pachuca in the second leg of the quarterfinal a surprisingly effective tactic against the team that had been the best at scoring in the regular season.
But while the series will be decided Sunday, there may be some concern for Sosa. He's going to have to lay out quite the game plan to get past an America team that not only stayed undefeated in the Ricardo La Volpe era with William Da Silva's equalizer, but also found an away goal that will make it that much tougher for Necaxa to win on a tiebreaker.
"We wanted to keep a clean sheet, that would've been important," Sosa said after the match. "We didn't get it. But the series is still open. We're going to look for a good match in Mexico City. I don't see it as impossible."
Now the series goes to the Estadio Azteca, a venue Necaxa actually used to call home along with America before moving to Aguascalientes. America is undefeated in its last four league matches there, and is starting to round into good form. The front four of Oribe Peralta, Darwin Quintero, Renato Ibarra and Silvio Romero showed a better understanding of what La Volpe wants than it did in the second leg of its quarterfinal win over Chivas.
And at the back, American international Ventura Alvarado and 19-year-old Edson Alvarez have stepped up on the right side after getting few minutes during the regular season.
But after the defensive game plan in the second leg of the last series, Sosa once again showed his adaptability, playing to the outside against La Volpe's 5-3-2 and putting in plenty of crosses and long shots on goalkeeper Moises Munoz. The America shot-stopper was superb, but Sosa's tactical plan could've seen his team take an advantage into the second leg.
Still, Necaxa wasn't in danger of being the best team on the field Thursday night. What Sosa and Co. have done so far this campaign has been remarkable, but barring a major twist, it will end in the semifinal round.
"Everybody thought that Necaxa was going to fight against relegation, but they're playing really well," America goalscorer William Da Silva said after the match. "The two times we've come up against them, it's taken a lot for us to get the draw."
Sosa will already be set to work on making sure a result doesn't come easily Sunday and maybe, just maybe, he'll devise something that puts Necaxa into the final.