Johor Darul Ta'zim
Mora retains faith in Safawi despite early substitution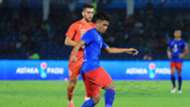 ---
 BY       OOI KIN FAI      Follow on Twitter
---
Having not made the starting line-up of the match between Johor Darul Ta'zim (JDT) and Kelantan last midweek, Safawi Rasid was surprisingly included in the first XI when JDT took on PKNS FC on Saturday. 
However, his joy quite quickly turned very sour when the former T-Team FC player only lasted 23 minutes before he was substituted for Brian Ferreira in the first half of JDT's 2-1 win. It's a big hit on the youngster as players that are substituted without being injured this early in the match only means one thing - that they didn't perform.
Head coach, Benjamin Mora in speaking to the press after the match, contributed to Safawi being withdrawn early down to his lack of playing time that has affected his performance on the pitch.
"He's a 20 year old boy and he needs confidence. He hasn't had a lot of minutes. He's lacking the rhythm, timing and pace - that is not easy in football when playing with team mates that play the ball very fast," said Mora.
However despite his obvious disappointment in the output produced from the player on that night, Mora still retains confidence in Safawi and stressed that he's the type of player that he still want in his squad.
"If we have a style to play long balls, long balls to Safawi, then it would easy for Safawi. But Safawi needs to connect with the other players. I don't blame Safawi, it's very fair and normal. He will play again. I love his style of play - very strong and willing. And I'm still confident he can perform," explained Mora.
With the trip to Cambodia to play Boeung Ket on Wednesday in the AFC Cup coming up, Safawi may yet get his chance soon. JDT handed Boeung Ket a 3-0 beating when they last met and Mora could be looking to make some changes to his side, indicating that Safawi will feature in his plans.
"Maybe he'll have minutes in Cambodia. He's 85 - 90% ready," added Mora.
From a confirmed starter week in week out with Rahmad Darmawan's T-Team last season, the move to JDT represent a big challenge to Safawi. Knowing full well that he has a lot of competition to get into the team, the youngster is at this point in time, suffering a little.
Yet, there's still time for Safawi to knuckle down and take every knock back as motivation to improve further, his quality is undoubted - now for the mental side to rise to the fore.