Concacaf Gold Cup
Mexico vs. Jamaica team news: Cubo Torres starts up top for El Tri in Gold Cup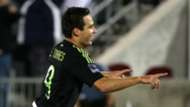 Erick "Cubo" Torres will lead the line for Mexico against Jamaica in Thursday's Gold Cup group match. 
Juan Carlos Osorio has made four changes to his team overall, bringing Torres, Moises Munoz, Oribe Peralta and Jesus Molina into the starting side, while dropping Jesus Corona, Angel Sepulveda, Jorge Hernandez and Luis Reyes to the bench. 
Mexico opened the Gold Cup with a 3-1 win over El Salvador, taking a narrow edge in Group C over Jamaica, which opened with a 2-0 win of its own, on goals scored. 
Mexico starting XI:
Munoz; Alvarez, Ayala, Marin, Gallardo; Duenas, Molina, Pineda, Hernandez, Cubo, Pizarro