Mexico
Mexico roster reflects El Tri's transitional period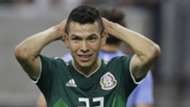 Tuca Ferretti is at the 'usual suspects' stage of his tenure as Mexico interim manager.
Ferretti has a core of players who he feels comfortable calling in, even as he looks to expand the player pool and give opportunities to younger players. The work he's doing now won't be all for naught, but it definitely will be less important once a new manager arrives in December.
His rosters, which do feature plenty of young players but also include old reliables like Guillermo Ochoa, Raul Jimenez and Miguel Layun, who is on the roster for the first time since the World Cup, show the transitional moment Mexico is at right now. On the one hand, developing young players is a must. On the other, there are important tournaments coming as soon as seven months from now that will require Mexico to lean on some of its players who have been around the block.
In the middle is Hirving Lozano, both young and experienced after playing a critical role at the 2018 World Cup. He has been a constant after Russia. So too has Jimenez, who is 28 but clearly is eager to take over as Mexico's top No. 9 should Chicharito decide to announce his international retirement or if the West Ham forward simply sees his form dip to where Jimenez would be a better option.
The next manager has a decision to make in how much weight to put on the Gold Cup. Mexico didn't win the last time around, so it won't go to the Confederations Cup if it doesn't lift the trophy. Plus, regional supremacy always should be the goal for a team that's been as dominant in Concacaf as Mexico has historically.
He also needs to manage the personalities of Mexico players who may feel they deserve to continue on with the national team, even if the manager wants to phase them out. Juan Carlos Osorio, who took over as Mexico coach in  2015 and left in July of this year, knew that how he dealt with the aging Rafa Marquez would be one of the defining moments of his tenure leading El Tri. He found a reasonable balance - Marquez played sporadically when he was eligible but took on important roles in some matches - until it tipped too far in the other direction and the 39-year-old started a World Cup knockout round match against Brazil. That lasted just a half, but the damage had been done.
Andres Guardado could make a push to make a fifth World Cup, and there's no reason to think players will go quietly just because they're not involved in these call-ups. That being said, there are only so many places in the XI. Nestor Araujo, Carlos Salcedo and Diego Reyes are going to surpass Hector Moreno. Jimenez should surpass Chicharito (though, again, it's not like Jimenez is 19). Some of those players don't want to be called in right now or aren't in the picture for Ferretti. Yet, they should still have a place in the national team in the future. Hector Herrera has the quality and is young enough to play at the next World Cup. These rosters are for bringing back a few veterans who want to be included now and getting young players involved in the process.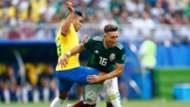 Is that good reason to leave off players who could be part of the next generation? Toluca forward Alexis Vega has five goals and a pair of assists in Liga MX and is just 20. Antonio "Pollo" Briseno took the risk of going to Europe and has become a regular starter for Portuguese club Feirense. Both are waiting on their first senior cap, and it would make lots of sense for it to come in the low-stakes environment of these friendly matches, where mistakes could be made and the consequences would be relatively low. In the near term, Santos Laguna midifelder Jose Juan "Gallito" Vazquez would be the kind of player who could push Monterrey midfielder Jonathan Gonzalez in the midfield, and up front Rodolfo Pizarro has the capability to make 2022 if he can find consistency. Maybe the new manager will see fit to call them in.
Failure to call in a diverse crowd of players won't go down as a huge mark against Ferretti. He did what he was asked to do during his tenure. Roberto Alvarado, Jesus Angulo, Gerardo Artea, Diego Lainez, Victor Guzman and others now know what they're working for and can dream about playing for Mexico at the Gold Cup. They can start to figure out what it would take to be part of the 2022 World Cup team. To do that, they need guys like Layun and even Lozano in the locker room or just on the bus, explaining how to become a regular in Europe.
That's where Mexico is at right now. The disappointment of the World Cup has faded. Some players from that group won't return, but getting some of them in the mix ahead of a year that will include the Gold Cup, the launch of the Nations League and likely the announcement that Mexico will take part in the 2020 Copa America will only help in the long-term. The awkward mash-up of old and young, veteran and newbie, is where Mexico is at right now at this early stage in the cycle. The only thing wrong with that will be if they're still at this stage six months down the road.