Mexico
Mexico coach Osorio enjoying time with Sampaoli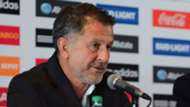 As Mexico learned its Gold Cup schedule in California, coach Juan Carlos Osorio was thousands of miles away in Spain.
After Osorio and director of national teams Santiago Banos traveled to Europe to see the 13 Mexico national team regulars playing on the continent, Osorio decided to head to Sevilla, where he plans to stay through Sunday.
Osorio visited by his "own decision and on my own account" to observe coach Jorge Sampaoli's La Liga side.
CONCACAF announces Gold Cup groups
"Plain and simple because from South America and Mexico we see positively how Sevilla has been a protagonist during the whole tournament," Osorio told Sevilla's official website.
"It's a team that we think has great players, plays really good soccer and is very well coached by Jorge Sampaoli and (assistant coach) Juanma Lillo. I took advantage of the relationship I have with Juanma to ask him about the posibility of coming and observing the team from close up, and so far it's been a great experience."
ENTREVISTA | Juan Carlos Osorio vive "una gran experiencia" empapándose del método de Sampaoli

 https://t.co/l1K5tekzaf pic.twitter.com/expE487WV2

— Sevilla Fútbol Club (@SevillaFC) March 8, 2017
While the Colombian coach has enjoyed the trip, he also wishes he had more time to chat with the Argentine coach, who like Osorio takes many of his methods from famed coach Marcelo Bielsa.
"Unfortunately we haven't spoken a lot, because I understand that in the day-to-day, not only with La Liga but also with the Champions, their attention must be totally on their games," Osorio said. "It hasn't been with the frequency I wanted, but it's very, very important to hear their opinions and what they think."
Five Things We Learned from Liga MX J9 
Osorio said he hasn't been surprised by Sampaoli's quick success with Sevilla — success that has resulted in the former Chile national team mananger's name coming up as a potential to replace Luis Enrique at Barcelona.
"Profe Sampaoli already has a very rich resume from his profesional life. He did a great work on the club level in Chile, after that with the national team also and I don't think that the challenge of coming here to coach was going to be too big for him," Osorio said.
"This is a club that has been a protagonist, that has a lot of history, that in the last few years has had really good showings in UEFA. It was a challenge to come to a winning team and push it to the next step, but I think he's doing it along with the great contribution of Juanma Lillo."
Osorio's Mexico team returns to action later this month when it hosts Costa Rica in a World Cup qualifier, then travels to Trinidad and Tobago for another WCQ.