Lionel Messi
Messi: Ronaldo and I have no relationship outside football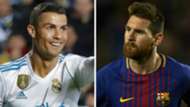 Lionel Messi has revealed that he does not have a relationship with Cristiano Ronaldo, and only really speaks to his rival at awards ceremonies.
Real Madrid star Ronaldo has previously claimed that himself and Messi put their on-field rivalry behind them when they finish playing and become friends, but the Barcelona forward is not confident that their future is bright beyond football.
Ronaldo 6/4 to score first v Malaga
"I don't know if we will be [friends]," Messi told Marca. "Friendship is built through spending time together and getting to know each other.
"We have no relationship, mainly because we only see each other at awards ceremonies and that's the only time we speak. Everything is fine, but our lives don't cross over very often."
After helping Madrid win the Champions League with two goals in the final against Juventus, Ronaldo is the favourite to win the Ballon d'Or again this year. It will be the Portugal international's fifth award, equalling Messi's record tally.
The duo have finished first and second each year since 2008, but Messi believes that their dominance will be broken in the near future as other players challenge them for the crown of the best player in the world.
"There are many great players around today who can win the Ballon d'Or," the 30-year-old said. 
"In recent years there have just been two, but now players like Neymar, Kylian Mbappe and Luis Suarez can compete for that award."
Messi accepted the European Golden Shoe award on Friday, picking up the trophy for the fourth time, which put him level with Ronaldo. The trophy is awarded annually to the player who finishes as the top domestic scorer in Europe during the previous season.
The Argentina international scored 37 times in La Liga last season, which is the lowest winning score since Luis Suarez and Cristiano Ronaldo shared the trophy in 2013-14.