MLS
Marsch and Vieira departures open new era in New York derby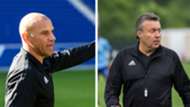 Major League Soccer's New York derby had some slow beginnings, partly because of New York City's forgettable first season, and the New York Red Bulls early dominance over their new rival. Over the past three seasons, the rivalry has grown, in large part because of the efforts of Patrick Vieira and Jesse Marsch, two coaches who did well to build their teams into MLS powers, and whose strong personalities added spice to the derby.
When the Red Bulls take on NYCFC on Sunday night, the sidelines will have a very different look from the last time they met, just a month ago. Vieira has returned to France, embarking on his inevitable climb up the European coaching ranks by taking over Ligue 1 side OGC Nice. Marsch appears ready to follow Vieira across the Atlantic, with an as-yet-established position either as interim head coach or lead assistant with Bundesliga side RB Leipzig.
The departures weren't exactly surprising thanks to the months of speculation that preceded each move, but that didn't make their eventual farewells any easier to take, even as both teams insisted that continuity would be assured.
That's easier to believe from the Red Bulls, who appointed Chris Armas as Marsch's replacement. Armas has been a Marsch assistant since he joined the Red Bulls, and the former U.S. national team midfielder knows the team's high-pressing system and the Red Bulls squad better than anyone. He will carry his own style to the job, and his own personality, which isn't quite as outgoing and media savvy as Marsch. What Armas does is command respect from a team that knows him well.
Unlike Armas, Domenec Torrent has jumped in as Vieira's replacement without having already been part of NYCFC's setup. Pep Guardiola's former right-hand man at Barcelona, Bayern Munich and Manchester City brings with him a strong resume, and the advantage of having previously worked with NYCFC star David Villa, which helped give Torrent some immediate sway in the locker room. That being said, he is still new to the job, and handling his first head coaching stint in a dozen years.
Though he hasn't been a head coach in more than a decade, Torrent's philosophy is in line with the possession-based style Vieira employed. Torrent is sure to eventually put his own spin on things, and he will likely differ from Vieira more than Armas will differ from Marsch, but he is also a savvy enough soccer mind to understand wholesale changes aren't needed in a team that was one of the top teams in MLS before he arrived.
NYCFC has split Torrent's first two matches in charge, but now must defeat an opponent that has dominated the series this season. The Red Bulls have posted a pair of 4-0 victories against NYCFC in 2018, the last in U.S. Open Cup play a month ago. A year ago, NYCFC finished 2-1-1 against the Red Bulls in all competitions, but overall, Marsch held the edge on Vieira, something that clearly didn't sit well with the Frenchman.
Sunday will offer both Torrent and Armas a chance to make an early statement of intent, and there's added pressure to try and impress. If the Red Bulls deliver another emphatic victory, it will ease any initial concerns that Marsch's departure could hurt the team's serious MLS Cup candidacy. If Torrent can lead NYCFC to a win, it would help his team leapfrog the Red Bulls in the standings, and show NYCFC fans that there shouldn't be a drop-off because of the departure of the highly-regarded Vieira.
The New York derby will have new coaches, but the outcome will be determined by the same battle, between NYCFC's possession-oriented style and the Red Bulls' high-pressing system. The Red Bulls midfield has dominated the matchup both times they have met this season, and Torrent will need to figure out how to turn that tide in order to ensure his team isn't overrun yet again.
It will be up to stars like NYCFC's Villa and Maxi Moralez, and Kaku and Tyler Adams for the Red Bulls, to determine which style prevails. But the blame and the credit will fall to the feet of the new men in charge, two coaches who have adopted strong teams, but also the high expectations established by the men they have replaced.