West Ham United
Manchester United flop Moyes can save his career at West Ham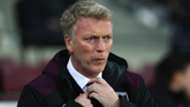 In the lead-up to West Ham's game against Manchester City, such was the form of David Moyes' side, you could find shorter odds on City winning 4-0, than the Hammers winning 1-0.
The formbook suggested that City, unbeaten, swashbuckling, arguably the best team in Europe, would run out comfortable winners, racking up a cricket score and performing in a manner befitting a side strolling to silverware. The Hammers were mere cannon fodder.
That was how it was supposed to go. Instead, West Ham, previously beleaguered and seemingly bereft, were spirited, and forthright in their approach. They took the lead at the Etihad Stadium, through Angelo Ogbonna's excellent header on the stroke of half-time, and threatened on numerous occasions thereafter.
City struck back, equalising through Nicolas Otamendi, and eventually won the game thanks to a piece of genius from David Silva, but West Ham were organised and resourceful, and deserved more than they ended up with.
It is telling that City subsequently lost their first game of the season, against Shakhtar Donetsk in the Champions League. West Ham's performance may well have rocked Pep Guardiola's men, who previously appeared unstoppable.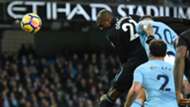 That the Irons performed as well as they did is all the more surprising considering the backlash that both preceded and followed the appointment of Moyes. Having turned champions Manchester United into also-rans, failed in Spain and relegated Sunderland, the Scot was seen as a backwards appointment, with West Ham merely settling in for a relegation battle for the rest of the 2017-18 season.
Instead, it appears, there are roots of revival at the London Stadium. The performance against City is one to build around, especially with an unforgiving fixture list looming. The Hammers must play Chelsea and Arsenal in succession, before a trip to the bet365 Stadium to face Stoke.
It is a task to replicate excellent performances; Moyes cannot merely tell his players to repeat the display against City, sit back and hope for the best, and one of the challenges facing his tenure is how to lift the side up the table – they are currently 19th, only one point above bottom-placed Swansea.
West Ham used to be able to bloody the noses of even the very best teams, though, regularly landing knockout blows to the likes of Manchester United and the Gunners at Upton Park, and the display against Guardiola's men suggests that a similar spirit has been evoked by Moyes.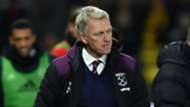 Of course, it cannot be forgotten that this set of players has already surrendered under the Scot, with the meek 4-0 capitulation to an equally dispirited Everton will continue to leave a sour taste in the mouth of West Ham supporters, who are some of the hardiest, most passionate in the country.
However, spirit begets good fortune, and West Ham are heading in the right direction. The league table is still remarkably tight – the Hammers are just six points behind Stoke, who appear to be ensconced in relative safety at 13th – and any victory can only help momentum and spirit in the stands.
Indeed, when news broke of Moyes' appointment, before official confirmation he would replace Slaven Bilic, damage limitation was the order of the day for those in the club's boardroom. Talks had taken place with Sam Allardyce. David Gold and David Sullivan had to decide whether to bring back the now-Everton manager, or press ahead and appoint Moyes. It is understood that they seriously considered changing lanes, such was the vehemence of fan protests. Instead, they went with their gut, and plumped for the former United boss.
It appears a wise decision. West Ham's display against City came about despite a number of injury problems – they were without Jose Fonte, Sam Byram, Winston Reid and James Collins – and they were forced to field a back three featuring Aaron Cresswell - a wing-back - at centre-back, Ogbonna and the inexperienced 18-year-old Declan Rice.
As the season progresses, Moyes now has a reference point. West Ham must keep this momentum going, and start climbing the table. Momentum taken from a defeat is rare, but the Hammers have it, and will hope to capitalise against Antonio Conte's Chelsea.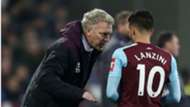 Mark Noble, the club's forthright captain, spoke of Moyes' impact recently, telling Sky Sports : "I love to win. We're in a results business now where you have to win games and we haven't done that.
"What I will say is that it's been good under the new manager, he's set a stall out for how he wants to play. Some of the performances have been really good but the results haven't gone the way we wanted. You can slowly see it turning around. If you don't stick together you'll be in trouble.
"I've been in dressing rooms where the atmosphere has been much worse. We've got a good bunch of honest players that it hasn't gone for them this season. I can see the small changes in the things we're doing and that, hopefully, the results turn around."
If they do, Moyes has a chance to rescue his reputation, and start to rebuild his name.
After numerous false starts, maybe he has finally found the club to build another legacy with, four years, and four clubs, after his departure from Everton.