Premier League
Manchester City's 15 best signings of all time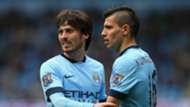 Manchester City are in the midst of a major summer overhaul as they look to make a huge step forward under Pep Guardiola, and the club will be hoping to pull off a few deals that rival some of the most astute purchases in their history.
Bonucci worth €17m LESS than Walker?!
City thought they had bagged a bargain by getting Dani Alves on a free transfer, which goes to show how complicated transfers can be in the first place. And even if the Blues have to pay big money to persuade Arsenal to sell Alexis Sanchez, it could be seen as a shrewd bit of business and perhaps crucial to Guardiola's time at the club.
But any players bought this summer, or those who have arrived in the last couple of years, will have to go some way to earn a place on this list, which is full of club legends who were astutely lured to Manchester, whether for big fees or a pittance.
---
ALI BERNARBIA | From PSG | Free | 2001
---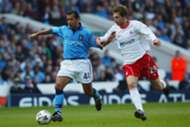 Bernarbia proved to be an inspired bit of business by Kevin Keegan. The Algerian quickly became a fan favourite and his bright performances helped City claim promotion back to the Premier League in his first season.
He was named in the team of the season during his debut campaign and although he struggled to replicate that form in the Premier League, he is still remembered fondly by City fans for his one magical season.
To top it off, his final game for the club came against Barcelona as City opened the City of Manchester Stadium.
---
SHAUN GOATER | From Bristol City | £510k | 1998
---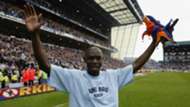 Goater arrived towards the very end of the 1997-98 season for £510,000 (€755,126) and could not avert relegation to the third tier.
Some fans were against the signing, seeing the Bermudan as a lower-league slogger, and he was even booed during his first games for the club, but that soon changed.
RUMOURS: Chelsea & Liverpool want Auba
His goals ended up firing City to three promotions during his five years at the club and he remains a cult hero and firm favourite to this day - 'Feed the Goat and he will score.'
---
GEORGI KINKLADZE | From Dinamo Tbilisi | £2m | 1995
---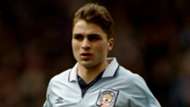 Kinkladze will always have a special place in the hearts of City fans thanks to his exploits for the club while they struggled in the mid-90s. 
Though City were relegated twice in Kinkladze's three years at Maine Road, his skilful performances ensured he became a Blues icon, and one of the most popular players to ever play for the club.
Though performances barely could have got any worse he had not been there, the Georgian's contribution was vital and he ensured fans had something to smile about in some of their darkest days.
---
ANDY MORRISON | From Huddersfield | £35k | 1998
---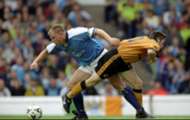 City were at a low ebb when Morrison was signed from Huddersfield for £35,000 in 1998, having been relegated to the third tier the season before.
The club were lacking leaders but Morrison provided exactly what was needed, with manager Joe Royle pointing out how 'he dragged us kicking and screaming into Division One."
Morrison struggled with injuries after that and was eventually forced into retirement, but he provided exactly what the club needed upon his arrival and, for such a small fee even then, he cannot be overlooked.
---
CARLOS TEVEZ | Unattached | £47m | 2009
---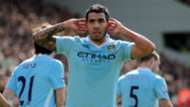 City fans will tell you Tevez was signed from Manchester United, which is why such a costly transfer for not such a huge trophy return still deserves a place in the top 15 City transfers of all time. 
The idea that City snatched Tevez from under United's noses really adds to his allure, especially as he was a firm fan favourite at Old Trafford. Tevez spent two years at United but when it came to renewing his deal with the Argentine's investment group it was City who pounced, and made sure they paid enough (£47m/€55.35m) to bring him to the Etihad Stadium.
Did Bakayoko troll Man Utd fans?
While Robinho is regarded as a statement signing, given he was signed from Real Madrid on the day City were taken over in 2008, Tevez was another huge sign that City had arrived as a force to be reckoned with.
Even the fact he was involved in a bust-up with the even more popular Roberto Mancini and returned to Argentina for several months during the 2011-12 season does not damage his enduring popularity among City fans. After all, when he did return he was a major part in City's title win that season, having already helped the club win the FA Cup the year beforehand.
The Argentine's time at City fizzled out towards the end but his place in the club's history is secured, and the circumstances in which he made the move mean his transfer will always be remembered fondly by many.
---
TONY BOOK | From Plymouth | £17,000 | 1966
---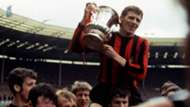 Book's signing for City deserves a place in the top 10 if not just for the story behind it. The right-back first started working with Malcolm Allison at Bath in 1962, before moving to Toronto City a year later.
Allison returned to Plymouth not long after and then signed Book again, but only after telling him to doctor his birth certificate so it said he was 28 rather than 30, to help persuade the club's board to part with £1,500.
Book and Allison then moved to City in 1967 after Allison convinced sceptical Blues boss Joe Mercer to sign then 31-year-old for £17,000 by pointing out that Mercer himself had made a successful move at a similar age.
Not that Allison signed Book as a favour - Book was a fine player and a leader, and remains City's most successful captain in terms of trophies won.
---
MIKE SUMMERBEE | From Swindon | £35k | 1965
---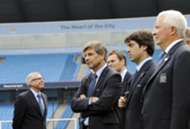 The first of the Summerbee-Bell-Lee trio to be attracted to the club, Summerbee went on to make more than 400 appearances for City and was a crucial part of the team which won the First Division title, the FA Cup, the League Cup and the European Cup Winners' Cup in a four-year spell.
Summerbee had a colourful personality and despite moving on to Burnley in 1975 he returned to City as a club ambassador, meaning he is still exerting his own special kind of influence to this day.
---
SERGIO AGUERO | From Atletico Madrid | £35m | 2011
---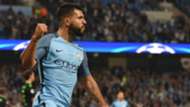 Aguero's arrival was a big deal back in 2011 and he wasted little time in living up to his billing as one of world football's hottest properties.
City had pulled off some great coups in attracting Yaya Toure and David Silva to the club the previous summer but the Argentine added an extra edge that would eventually see the club win the title in his first season.
AC Milan's remarkable renaissance
The Argentine has had his problems with injuries but has always scored goals when fit and his output has been crucial to the club's recent successes.
He could well be given a statue outside the Etihad Stadium one day, thanks in no small part to his historic title-winning goal in 2012. City fans, and probably the owners too, will tell you that moment alone was worth the £35m (€40.1m).
---
JOE HART | From Shrewsbury | £100k | 2006
---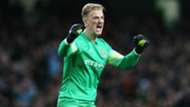 While it can be hard to establish exactly how much £35,000 was when City signed Mike Summerbee in 1965, it is glaringly obvious that signing Hart for £100,000 (€147,481) little over 10 years ago was an absolute steal.
Hart was one of the most important figures in City's success so far this decade and is still a favourite among fans, meaning Pep Guardiola's decision to move him out on loan last summer, and intention to find a new permanent home this summer, is unpopular with many supporters.
And although his time at the club is surely coming to a close, nobody will forget how important he has been in its modern history, and the fact he cost so little means he deserves his place firmly inside the top 15. 
---
FRANCIS LEE | From Bolton | £60k | 1967
---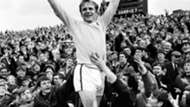 Described as the "final piece of the jigsaw" by City boss Joe Mercer when he signed in 1967, Lee helped the Blues win the First Division title in his first season. Lee's arrival was crucial to City's success in the late 60s and early 70s and his contributions justified the then club record fee he commanded.
Alongside Mike Summerbee and Colin Bell he became a City legend and showed just why the club wanted him to help make the leap from Second Division title winners in 1966 to one of the best teams in the country for much of the next decade.
His tally of 10 goals in Manchester derbies was only broken by Wayne Rooney in 2013 and though there was some animosity when he was sold to Derby in 1974, he is undoubtedly one of the finest City players ever and his signing will be remembered as a shrewd bit of business.
---
PABLO ZABALETA | From Espanyol | £6.5m | 2008
---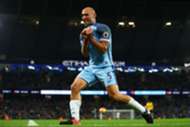 Zabaleta signed for City a matter of hours before they were taken over in 2008 and is a symbol of the change the Blues have been through in the last nine years. It did not take long for the combative right-back to win the hearts of the City faithful and his key role in the success of the early 2010s really cemented his popularity.
Semedo: Barca masterstroke or disaster?
His full-blooded performances over the years meant he struck up a real bond with supporters during his time at the club and that was best illustrated in May when he played his final match at the Etihad Stadium as a City player.
There was an outpouring of emotion that night as Blues fans returned all the dedication and effort that Zabaleta contributed to the City cause over the years. Not bad for £6m (€8m).
---
YAYA TOURE | From Barcelona | £24m | 2010
---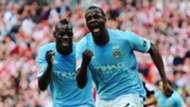 Toure is up there with the best and most popular players ever to play for City and has been integral to every success they have had. His days of lung-busting runs may be over but he has changed his game under Pep Guardiola so successfully that the Blues are not looking to sign a midfielder this summer.
Few top-class attacking midfielders have managed to transition into a deep-lying role so successfully, and surely that only counts as a bonus considering the silverware he delivered in his prime years since being prised from Barcelona for £24m (€29.4m) seven years ago.
---
VINCENT KOMPANY | From Hamburg | £6m | 2008
---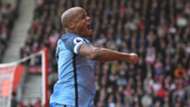 Kompany is so high up the list - and just above Toure - because he was an absolute bargain at around £6m (€7.6m). The Belgian was signed just before City were taken over in 2008 and has been so integral to the club's recent successes he has become a genuine club legend.
His injuries have hampered him in recent years but he has fought his way back to become a trusted member of Pep Guardiola's squad going into next season, and everybody at the Etihad Stadium will be hoping he can play an integral role in whatever comes next.
---
COLIN BELL | From Bury | £51k | 1966
---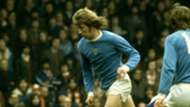 Bell is one of the best players in City's history, if not the best. Not bad for somebody who "can't head it, can't pass it" and is "hopeless". Or at least that's what City boss Malcolm Allison is said to have told his managerial rivals when Bell was leaving Bury in 1966.
Keita begs Leipzig for Liverpool move
Allison secretly saw a great player in Bell and his fake criticism helped throw City's rivals off the scent, clearing the way for the Blues secure the signature of somebody who would help guide the club to the most successful period in their pre-Abu Dhabi history. 
Bell helped City win the Second Division title in his first season, the First Division title in his third season, as well as the FA Cup, two League Cups and the European Cup Winners' Cup in his 13 years at Maine Road.
---
DAVID SILVA | From Valencia | £26m | 2010
---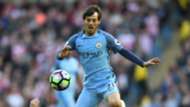 A true statement of intent from City, given they beat off rival interest from United and Barcelona, among others. Not only did they manage to land him in the first place, they managed to do so for a fee which is now regarded as a bargain.
That's because Silva is regarded by many fans as the club's greatest ever player - which isn't bad for £26m (€31.8m), which did not seem huge even in 2010.
After a pretty mediocre run of signings between 2011 and 2015, City are again starting to recruit the type of players capable of making the type of impact made by Silva, Toure, Aguero, Kompany etc in the early years of the Abu Dhabi era. But Silva has set the bar extremely high and if any of the signings made in the last couple of years have the same influence as the Spaniard then they will have to be very special indeed.