Super League
Longhi wants to keep winning run going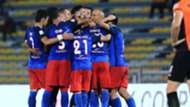 The 2018 champions continue to slay all before them after a ninth straight win was achieved in Ipoh, this time against PKNP FC. The three points collected at Perak Stadium move JDT to 56 points with one game remaining, just two shy of the highest total of 58 points collected by them in the 2016 season.
The 1-2 win was not achieved without its difficulties as The Southern Tigers struggled to find their passing range and movement as PKNP displayed great structure to deny them time and again throughout the first half.
Even Longhi admitted that their opponents made it difficult for them in the first period and although the situation did not improve greatly in the second half, he was at least pleased that his players eventually found the breakthrough.
"The match in the first half was a bit difficult for us, but the players played better in the second half. We also had several opportunities to score goals, and for me that was very good. However, as a whole, I was not fully satisfied with the performance of my players. I do not deny that the opponents gave us a great challenge."
"I am still happy to see my players' attitude and mentality but they need to further improve on their performances. I also expected the opponents would give us a strong challenge. Not just PKNP FC but all teams facing us will surely give us difficult challenges," said Longhi in the post-match press conference.
The struggle against a team so low down the pecking order in the league standings could well be attributed to the fact that Longhi only retain a few of the usual starters such as Hariss Harun, La'Vere Corbin-Ong and Fernando Marquez.
Lack of playing time individually as well as with each other in competitive matches ensure that it wasn't an easy 90 minutes for JDT. The usual suspects could return in the final fixture against Kuala Lumpur as Longhi looks to put a seal on yet another title winning season for the club, with a win at home.
"Winning another three points tonight was important for JDT, especially with us fielding several new players and players who had not played for a while, such as Adam, Aidil, Kiko Insa, Nazmi Faiz, Safiq Rahim and Izham Tarmizi. We gave them the opportunity to play because several players were tired especially after just facing Kelantan, then having a title celebration and traveling to Perak."
"We still have one more match this Saturday. It will be our last match and of course we still want to win. As a whole, I'm satisfied because we have drawn just two matches and lost once, while we have won the rest. This season's Malaysian Super League for us has been incredible," added Longhi.