Sadio Mané
Liverpool's Sadio Mane credits self-belief for hat-trick feat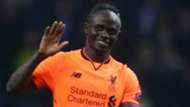 Andy Robertson darted towards a ball boy to retrieve a deserved souvenir for "a workhorse." And a layer of gratification filled Virgil van Dijk's face as he presented the recovered match ball to Sadio Mane, who became only the fourth Liverpool player to hit a hat-trick in the Champions League.
Assistant manager Zeljko Buvac bubbled when the 25-year-old's third goal went in against Porto in the 5-0 triumph, while Jurgen Klopp shared an extended embrace with the man of the last-16 tie on the Estadio do Dragao pitch as he reaffirmed what he had said at Southampton: the speedster was back.
Later on, Mane's team-mates queued up to congratulate him on Instagram, while there was no shortage of hugs, high-fives and chest-bumps with members of staff from Melwood.
The elation from the collective over the Senegal international's achievement on Wednesday night was instructive to how much he is appreciated and adored at Liverpool. Finally, after ample talk of his stifled season, and from operating in the shadows, it was his turn to be positioned in the foreground again.
"Mo [Salah] and Bobby [Roberto Firmino] have stolen the headlines in the last couple of weeks," Robertson noted to the club channel. "But Sadio is on my side of the pitch and he is a workhorse. He took the limelight and got his three goals."
Klopp, too, put the spotlight on Mane's significance to the team, even when he's not converting as frequently as his fellow forwards.
Despite not being at his supreme best regularly in the campaign, Liverpool's reigning Player of the Season has netted just one goal fewer than he managed last term (13) and has three more assists (eight) than in 2016-17.
"I said to him after the last game [the 3-0 win at St Mary's] 'finally you're back' immediately after when we talked on the pitch," Klopp revealed. "He showed it again at Porto what a fantastic player he is.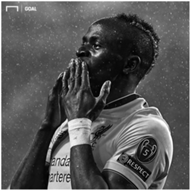 "He was always important, he was always fantastic for us, even in his not-that-good moments. That's a real quality - if you are not 100 per cent and still scoring, maybe not that often but involved in goals - then that's really important.
"They will come if you keep on working really hard like he did, then there can be a moment like this. The first one was a little bit lucky I think, but then the other two were being in the right place, the second one and using your fantastic skills for the last one. Good, really good, and I am happy about it."
It is evident that those who share a dressing room with Mane as well as the backroom team never questioned whether he could or would rediscover his dazzle.
And neither did the player himself. "Honestly, I am very happy to score three goals. It was tough on me, but it is part of football and can happen," Mane said, juxtaposing his display against Porto with his underwhelming performances.
"I never doubted how I could help the team, and I never stopped working hard every day in training. I always tried to remain balanced, even when it was not working, because it is my job and I have to do it.
"It is part of football. I don't know how to describe it, but it can happen to every single player and in my mind I was relaxed that it will change."
Mane, dominating the online voting, is due to be named the Champions League Player of the Week.