Liga MX
Liga MX confirms plan for women's league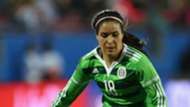 Liga MX will start a female division with play set to begin in 2017, the league announced Monday.
The league conducted its general meeting to decide the calendar for 2017 and also announced the new women's league. President Enrique Bonilla said the league will begin with a cup competition in the spring before the formal season begins in September.
"The female league is born from an FMF initive," Liga MX President Enrique Bonilla said. "We want to make a strong women's league to supply stars to the national teams."
Bonilla set out the regulations, saying each team will be made up of Under-23 players with at least four spots reserved for Under-17 players and two spots for players over 23. All told, rosters will have 21 spots, with two of those set out for goalkeepers. Foreign players will not be eligible to participate, though Bonilla said Mexican-Americans are welcome under FIFA regulations.
The league also announced modifications to the Copa MX format, a pilot program for the use of video in making officiating decisions and measures in place if Chiapas does not pay its players money they're owed.