African All Stars
Legacy Sports partners La Liga in Nigeria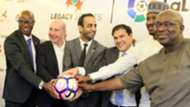 An agreement was signed between LaLiga and the company Legacy Sports Nigeria. Upon signing the agreement, the Nigerian agency has become LaLiga's commercial partner in Nigeria.
The event was attended by Vicente Casado, LaLiga's managing director of international development; Antonio Barradas, LaLiga's manager in Africa and Philip Diwan, the managing director of Legacy Sports, accompanied by Samy Kabbara, the director of Iron Products Industries.
The agreement unites LaLiga and Legacy Sports, a young Nigerian marketing and advertising agency established two years ago, to work together in Nigeria over the next three years.
After the signature, a press conference took place in Lagos with representatives of both parties and the presence of Shehu Dikko, Chairman of League Management Company, and Seyi Akinwumi, vice-president of the Nigerian Football Federation.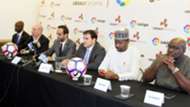 "This agreement is yet another example of the internationalisation process that LaLiga is immersed in. We want to get even closer to our fans in Nigeria and that is why we now have an office there, our second in Africa, which is a very important region for us," assured Vicente Casado, LaLiga's managing director of international development.
He went on to say that it comprises an important agreement for LaLiga, "which has once again partnered with the best international companies to work together outside our region." LaLiga now has two offices in Africa – one in South Africa and another in Nigeria – in addition to its two offices in China, and offices in the United States, the United Arab Emirates, India and Singapore.
"It's an honour for our company to partner with LaLiga. We're very proud to represent such an iconic brand" assured Philip Diwan, the managing director of Legacy Sports, who also declared himself a huge football fan and a keen follower of the Spanish competition. He went on to highlight some figures from the World Football report prepared by Nielsen Sport, which reveal that Africa is the continent with the largest number of football fans, with over two thirds of the population professing an interest in the sport.
Specifically, Nigeria is the country with the greatest interest in football worldwide, with 83% of the population interested in it. "It is about time to develop football and the youth in Nigeria. Through the partnership with Legacy Sports, coaches will move permanently to coach our youth players in Nigeria", said Diwan.
Legacy Sports is an affiliate of Iron Products Industries (IPI), a company which has been operating in Nigeria for over 50 years and has become a leading steel fabricator and automotive assembler.