Asante Kotoko
Kotoko coach Polack undergoes successful knee surgery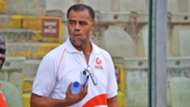 Asante Kotoko head coach Steve Polack has undergone a surgery on his knee, with the club indicating that the operation was a success.
The Englishman suffered both leg and head injuries on Wednesday  when the team's bus rammed into a stationary truck at Nkawkaw on their way from Accra to Kumasi, after a 1-0 defeat to Inter Allies in the Ghana Premier League matchday 22.
Equipment manager Thomas Obeng Asare was killed while Polack, his assistant Godwin Ablordey, the bus driver Nana Berchie and midfielder Ollenu Ashittey sustained various degrees of injuries and required intensive care at the Komfo Anokye Teaching Hospital in Kumasi.
"Coach Steven Polack has successfully undergone a knee surgery at KATH. He just returned to the ward from the theatre," a club's statement read.
"Management members are still at KATH waiting for team bus driver, Nana Berchie, whose time at the theatre will be over soon also with good news.
"Ollennu Ashitey is also doing very well after being admitted [with the rest of the players discharged and with their families]. He's had a good rest. His condition is much better than it was in the morning," the statement added.
Ghana FA have confirmed that Kotoko's game against Hearts of Oak in Kumasi on Sunday had been postponed until further notice but the remaining seven fixtures which were scheduled for Saturday will be played on Sunday with each club wearing a black armband.
However, Ghana League Clubs Association (Ghalca) chairman Kudjo Fianoo has suggested that all the matches must be called off in solidarity to Kotoko.