Antonio Rüdiger
Klopp makes you feel like the best in the world, says Rudiger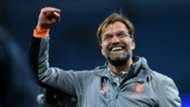 Antonio Rudiger had to leave Borussia Dortmund's academy to make a professional career for himself, but he still has great admiration for Jurgen Klopp. 
Klopp guided Dortmund to back-to-back Bundesliga titles while Rudiger was at the club but the defender move to Stuttgart before his senior debut, with Mats Hummels and Neven Subotic ahead of him in the pecking order. 
Six years since he parted ways with Klopp and Dortmund, Rudiger has established himself as a top centre-back at Chelsea after his £34 million summer move from Roma. On Sunday, the 25-year-old will come up against his former boss once again and spoke of the immense belief he instils in his players. 
"I didn't get much, but when he spoke to me at the friendly match I saw he's a coach that gives you motivation, like you're the best in the world," Rudiger told Goal, as he helped launch Stamford Bridge's new sensory room. "That's very good and one of his best skills as a coach. 
"He had nothing to do with [me leaving], because I was in the youth [team]. I knew for myself I had to leave Dortmund to play first-team football. I spoke to him twice, because he used to watch a lot of academy games. He also invited me to a friendly match.
"I was 16, or something like that. For me, it was important because at the time, Dortmund won the league twice in a row. There was almost no chance [to make my debut]. So for me, I was young but I was very realistic. I thought: 'Okay, maybe I need to go'.
"It wasn't a step back, maybe it was even a step forward. I went to a team that was a bit lower [in the table] but I was playing."
Rudiger was a target for Conte's Chelsea for two seasons running, but his first move was scuppered by a torn cruciate ligament injury. 
The Blues defender was left out against Burnley, but has said that his working relationship with Conte is good, but admits he does not know if the coach will remain beyond the end of the season.
"I'm not taking part in this decision," he said when asked about his manager's future. "It doesn't matter [what I think], if he is my coach next year he is my coach and I'll work with him. The way he works is professional, and that's good.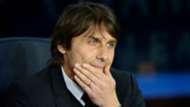 "For me it's OK, because he does his work and he puts his all [into it] - I think you can see that on the sideline. That's it, and the players have to do that as well. It's a professional relationship and that's good."
Chelsea are in fifth place and are battling for a top four spot against Liverpool and Tottenham in their final three games of the Premier League season. The FA Cup represents Rudiger's last chance at silverware this season and the first major trophy of his club career. 
Blues skipper @GaryJCahill and @ToniRuediger yesterday opened our new sensory room at Stamford Bridge.

The new facility will be used for the first time on a matchday for our game against Liverpool on Sunday.

More to follow... pic.twitter.com/3R5LJANhha

— Chelsea Foundation (@CFCFoundation) May 3, 2018
Despite playing away from Germany for the past three seasons, the Berlin-born centre half still looks up to Bayern Munich's Hummels and Jerome Boateng as role models. He thinks his choice to play in England means that it will be hard to win as many titles as they do, given the Bavarians' Bundesliga dominance. 
"Of course, they won important titles," he said. "I think to win the Premier League here is different than to win the title at the moment at Bayern Munich. If we don't finish in the top four, this [FA Cup] is a little sweet that we can give to ourselves and the fans. 
"As a team we know we did many things wrong. I think it's a new start [next season]. In my career, I have only won one title and that's with the German national team. Yes, this is what I want [to win more with Chelsea]. I want moments that I won't forget."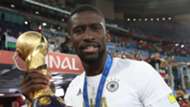 Rudiger's season does not end at the FA Cup final, as he is a strong contender to start for Germany at the upcoming World Cup in Russia. 
Germany won the Confederations Cup last summer with Rudiger featuring heavily and he is confident he has earned his spot, as his country bid to retain the World Cup trophy. 
"I'm confident I'll be part of the squad," He added. "I had good years since I arrived in Rome, and if not for the injury I think I would have played in that first match. Yes, of course [Chelsea will help me get selected]. But apart from that, everyone wants to play for a big club.
"It doesn't mean because you're in a big club [you automatically get in], because what if I don't play? It's the same as I felt in Rome. Roma helped me to get where I am with the national team. It depends on performances."
Chelsea captain Gary Cahill was with his fellow defender Rudiger at Stamford Bridge, where they met children from Queensmill school. 
The group gathered at the newly launched sensory room which sits in the East Stand at Stamford Bridge and it aims to help families that have children with addition sensory needs, like Autism, to experience the games in a more peaceful environment. It opens for the first time as Chelsea host Liverpool this weekend.