Liverpool
Klopp: Liverpool are in pre-season mode - we will only get better!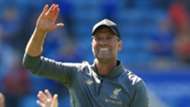 Jurgen Klopp insists that his Liverpool players are only going to get better after their perfect start to the season.
The Reds have won all four of their Premier League games thus far, beating West Ham, Crystal Palace, Brighton and Leicester City.
Klopp's side subsequently sit atop the table heading into the international break, but he insists that they are set to improve as the months roll on.
"The players are not at their top level yet. That is because we are in the early part of the season. It is normal," he told reporters.
"Everybody should know we have a lot of work to do still, but if they don't then I have told them.
"When you win four times it sounds really crazy to say this, but it is still part of the pre-season for a very long time after the summer.
"From mid-September, we play every three days. So we do the work now, and this is how it is – it is normal that you are not quite at 100 per cent in the games."
Liverpool face a tough run of games after the resumption of domestic competition, facing Tottenham in the league before a Champions League clash with Paris Saint-Germain.
That will be followed by a Premier League encounter with Southampton, two clashes with Chelsea - one in the Carabao Cup and one in the Premier League - and a trip to Napoli in Europe before taking on champions Manchester City on October 7.