Super League
Kedah fans threaten to boycott Selangor match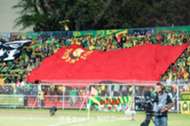 ---
BY        ZULHILMI ZAINAL       Follow on Twitter
---
After it was revealed that the television broadcast of the Kedah vs Selangor Super League (MSL) match at the Darul Aman Stadium this Saturday had been cancelled on the request of the Kedah FA (KFA) itself, the Red Eagles fans have hit back at the decision on social media, and threatened to give the match a miss.
The match had earlier been scheduled to be telecast live on Malaysia's TV9 channel, but on Wednesday the broadcaster then changed the match to the one between JDT and Sarawak, that is set to kick off at the same time.
On the following day, KFA issued a statement on the matter, explaining that they have asked TV9 to change the broadcast, as their previous two home matches too had been shown live on television.
However, Kedah fans all over the country have expressed their outrage at KFA's decision online, accusing the association of ignoring the fans' needs, and putting revenue ahead of them.
A Facebook user by the name of Mohamad Syafiq commented on the Kedah page: "This is how KFA repays Kedah fans who live out of the state? #BOYCOTT"
Mohd Imran wrote: "Let's boycott the match this Saturday, see how KFA likes it. They're scared of reduced gate receipts if the match is shown on TV."
A Facebook page by the name of Lang Merah Fans too has launched into a scathing attack against the KFA's decision.
"They declined the Selangor match broadcast with the excuse that our matches have been shown on television too often. This is how they repay the fans who always turn up to the stadium.
"Use your head, not all fans have the means to attend the match. Let's boycott the match against Selangor!"