Southeast Asian Games
Jafri calls for calm and focus after exciting semis win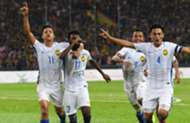 Malaysia took one step closer to realising the dream of winning the football gold medal at the 2017 KL SEA Games after a narrow 1-0 win over Indonesia on Saturday night. In front a capacity crowd at Shah Alam Stadium, Datuk Ong Kim Swee's boys had to wait until the last five minutes of the match before the deadlock was broken.
However, it could have gone horribly wrong at the beginning after S. Kumaahran had to be stretchered off the pitch in the first half and the initial game plan had to be changed. Penang's Jafri Chew was called into action and the striker played his part in helping Malaysia to the final.
"I'm always ready to play. Whenever I'm called into action, even that early because of Kumaahran's injury, I'm happy to be counted upon," said Jafri to Goal after the match.
The match against Indonesia was a tense one with both teams having the chance to go ahead during the match. If not for N. Thanabalan's intervention late on, the match could have gone into extra time and even the dreaded penalty shoot-out. 
Had that happened, it would not have been an ideal situation for Jafri and the team, even though the situation was playing in their minds leading up to that goal. It would have been less so for Indonesia as they have not had as much recovery time in between matches as Malaysia had.
"At that time, of course we were thinking that the match could go into extra time. But I'm thankful that it didn't and we managed to finish it within 90 minutes."
"Of course I'm excited because we are in the final now. But the mission is completed yet. We still one more game to go. We have to take this win as a confidence booster ahead of the final. 
"That's our last game and that decides the gold medal, hence it's important for us to maintain our focus and ensure we give our best," added Jafri.
With Kumaahran having to be helped around the pitch after the match to celebrate with his team mates, it doesn't look likely that Jafri's club team mate will be able to recover in time for the final. Which could well mean a starting spot in the final for Jafri himself.
The final is betweeen Malaysia and Thailand will now be taking place at Shah Alam Stadium and not Bukit Jalil National Stadium as earlier intended. The match takes place on Tuesday night and if the semi-final matches is any indication, the final is bound to an electric one.