United States
It's time for the USMNT to play Adams in his best position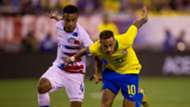 Tyler Adams is just 19 years old, but few players in the U.S. national team setup are seeing their stock rise more quickly than the New York Red Bulls midfielder.
Adams has become a regular starter for the USMNT since making his debut last November and has impressed on a consistent basis, with his tenacity, fearlessness and tireless work rate making him look very much like one of the key building blocks for the next World Cup qualifying cycle.
His rapid rise has been made all the more impressive by the fact he has seen very little time at what is widely-viewed as his best position as a defensive midfielder.
Adams has shown an adaptability during his career that has allowed him play well at roles ranging from right back to right wingback, to box-to-box midfielder to right winger, but as he has shown on a consistent basis with the Red Bulls in 2018, his future is as a defensive midfielder in the mold of N'Golo Kante, for both club and country.
That is why Bundesliga side RB Leipzig has reportedly put the finishing touches on a winter transfer for Adams, seeing him as a potential long-term replacement for new Liverpool signing Naby Keita.
It is no coincidence that Adams rates Keita as one of his favorite players, and Leipzig's willingness to invest millions in the youngster isn't just because his former coach — Jesse Marsh — is a lead assistant coach with the German club.
Interim U.S. national team coach Dave Sarachan has been slower to slide Adams into the role he seems destined to own for years, with veteran midfielder Wil Trapp occupying the role for the better part of 2018.
As impressive a captain as Trapp has been, it's tough to see him being a better long-term option in the defensive midfield role than Adams. They are different kinds of players, and who will wind up playing there could also depend on who becomes the next USMNT coach. Trapp's current club coach — Gregg Berhalter — just happens to be the frontrunner for the job, so we shouldn't necessarily write off Trapp as a long-term option, but you will find very few people around MLS who see Trapp as the better USMNT prospect at the position than Adams.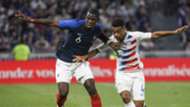 On Friday against Brazil Adams was deployed further up the field, with Sarachan once again hoping to have him provide some attacking spark to a midfield lacking creativity due to the absence of Christian Pulisic. Adams can contribute to the attack at times, but he isn't a natural playing in an advanced role. He can pull off the clever pass and is decent with a cross, but he's not a natural attacking midfielder and pushing him into a more advanced role takes away his influence as a defensive midfielder capable of buzzing around the field and stifling attacking threats.
Don't look for Adams to complain. He may be young, but he's selfless and speaks with the poise of a future national team captain. He knows his place as one of the team's younger players, and isn't going to be one to start calling for changes, but he did shed some light after Friday's Brazil match about where he sees his best position being.
"My preferred position is being on the field no matter what. I'd say (defensive midfield) is my most comfortable position. It's what I play with the Red Bulls as a holding player. I feel like I can control the game a bit more from that position, break up plays and do what I'm really good at. But wherever I can get on the field right now is fine, that's for sure." 
We have heard over and over about how the current U.S. squad is building for the future, and the long list of tough opponents the USMNT will face this fall is an attempt to get this group experience. If that is the case, and the future is the primary focus, then why wouldn't one of the top prospects not be played at the position he is most likely to feature in down the road?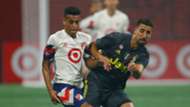 The same could be said for Weston McKennie, who plays a pure defensive midfield role with Bundesliga side Schalke. The diference between McKennie and Adams is that the Schalke man is a bit more of an attack-minded player, having played more of an attacking role during his developmental years. That DNA has shone through for McKennie in his handful of USMNT appearances, including against Brazil, as he wound up on the end of most of the team's best scoring chances.
Adams' early days saw him play as a right back and as a defensive midfielder, and as much as he could probably be an all-star right back if the Red Bulls chose to play him there, the reality is he is a top-notch defensive midfielder who, at 19, is already one of the best in MLS at the position, if not the best. He also has the mentality to make the most of an eventual move to Europe, where his position will almost certainly be as a defensive midfielder.
That's his future, for both club and country, and the sooner that Sarachan puts Adams in his best position, the sooner he can begin to develop into the defensive midfield anchor he has all the qualities to become for the 2022 World Cup qualifying cycle and beyond.