MLS
Is an MLS bidding war in LA for Chicharito looming?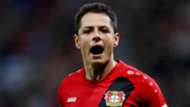 LOS ANGELES — Los Angeles FC doesn't have any players yet, or a coach, and the MLS expansion team's first match is still a year away. But the league's 23rd team will be here soon, and its deep-pocketed ownership group is already being linked with some high-profile stars.
Among those stars is Mexican national team striker Javier "Chicharito" Hernandez, who would be worth every bit of a mega-transfer to bring him to this West Coast mecca. A new team with a new downtown stadium could be totally justified in breaking every MLS transfer and salary record to land the Bayer Leverkusen striker as part of its inaugural season.
LAFC isn't the only MLS team Chicharito makes total sense for though, and that reality could lead us to a rarity in MLS circles: a bidding war.
The LA Galaxy are in the midst of transitioning into the post-Bruce Arena era, and the departures of Robbie Keane and Steven Gerrard have also coincided with what sources say is a conscious effort by the team to cut costs and start relying more on its academy to produce talent. The notion of a frugal Galaxy team — after two decades of free spending — never seemed to make much sense with LAFC on the way but even if that was the plan, it might have to change.
Freddy Adu on trial with Portland Timbers​
Why? Chicharito is a dream option in this market. He's excellent on the field, and he'll sell tickets and jerseys off the field. He's a bilingual marketer's dream, with enough charisma to help either LA team gain a significant advantage in what could develop into a fierce rivalry.
If the Galaxy could not only land Chicharito but also keep him away from LAFC, it would magnify his value. Failing to make a push for Chicharito and watching as he joins LAFC and helps the new team take over the market would be a nightmare scenario. It could leave the Galaxy playing catch-up for years.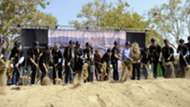 A wild card in a potential Galaxy pursuit of Chicharito is the looming arrival of the NFL's Chargers to StubHub Center. That move is set to land the Galaxy's parent company, AEG, a windfall sources are putting in the range of $60 million. That new revenue stream could be just the boost that makes a serious move for Chicharito more palatable to a Galaxy team that might otherwise have passed on a huge investment in the striker. 
Is Chicharito really ready to come to the United States? It shouldn't be considered so far fetched. He turns 29 in June, and while he could obviously still put in a few more years in Europe's top flight, a megabucks deal to be a star in LA has its appeal. It is a market where soccer stars like Gerrard and David Beckham found comfort in not being the city's center of attention, something Chicharito could certainly enjoy. It would also put him closer to his native Mexico, allowing him to continue cultivating his star status in his native country.
Chicharito's agent was spotted in LA two weeks ago, when front office staffs for every MLS team were in the area. His presence at the very hotel serving as headquarters for the recent MLS combine seemed to provide at least some fuel to the notion he was exploring options in the growing league. The reality is that while there are surely plenty of teams that would love to have Chicharito, the financial commitment required at this point to land him is beyond what most teams can handle (think a combined salary and transfer investment in the $40 million to $50 million range).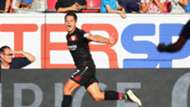 The Galaxy and LAFC are exceptions to that rule, and given how much is at stake, it is doubtful MLS as a league would stand in the way of letting the clubs battle it out for his services. Of course, as a single-entity league, MLS has always tried to avoid anything resembling a bidding war, choosing instead to step in and dictate price any time multiple teams were after the same star in order to keep costs under control.
That said, a Chicharito chase would be far different than anything we have seen before. If the Galaxy and LAFC were both serious about breaking the bank to land him, MLS would be wise to set a high financial bar and let the two LA clubs battle it out. It wouldn't be a classic bidding war — more about which team's overall pitch would be the most intriguing — but it would certainly be a fierce fight to land Chicharito's signature.
Ultimately, MLS knows having Chicharito in the league, and especially in LA, would be a major coup. Now it is up to the teams in this market to make that dream a reality, and it might just mean having to win the first major battle of a looming rivalry to do it.