Victor Moses
Conte: Victor Moses' talent was easy to spot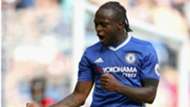 Antonio Conte has praised Victor Moses' efforts in learning the defensive side of the game after Chelsea switched to a 3-4-3 to kick-start their title charge earlier this season. 
Moses made his first league start for Chelsea since May 11, 2013 against Hull earlier this season and quickly became a cornerstone of Conte's Premier League leaders in a more withdrawn position. 
He endured spells on loan at Liverpool, Stoke City and West Ham after signing for Chelsea, but Conte admits that he immediately noticed his talent after seeing him play during his side's pre-season tour of Austria and the United States.
"I realised it quickly, that Victor could stay with us," he said at a press conference at Cobham Training Centre. "I remember during pre-season, when we stayed in America, I spoke with him and told him: 'Victor, you will stay with us.'"
"I'm happy to have this type of player. But I saw his potential quickly. I knew of him, but to see him live is very important to judge a player. I repeat: he deserved to stay with us this season, and also now he's deserving to play in the lineup."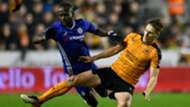 The 26-year-old has had to adapt a lot this season to his side's new system as Conte has asked him to fill in at right wing back to improve the team's balance. 
Conte was positive about Moses' attitude towards learning the defensive side of the game since his arrival and he is surprised at how well he has taken to his new role in the first team. 
"For Victor, he was very, very happy when he listened to my words," Conte added. "To tell me: 'I'm ready to stay here and fight for you, for the club. I need to have my chance and show I deserve to play with this team, with Chelsea.'
"It happened, this, and we are very happy about this. He's shown himself to be a great player. If you ask me if I imagined him in this new position, not before. No. Not before [we tried him out in the role].
"We started 4-2-4 and I always saw him as a winger, very good in one versus one, but a bit poor defensively. Then, when I decided to change the system, I wanted to try him in this new role and to work with him on defensive situations.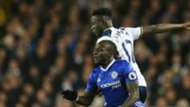 "He showed me great commitment to understand, to study the new role, above all in defensive situations. Now we have a complete player, offensively and defensively.
"I saw in the past that Victor had injuries in the season. Different times. When that happens, and a player is injured, it's not easy to have a correct evaluation of the player.
"But this season, I think we are good and also we have been lucky to prepare him in a good way. He's always available, up to now."