I-League
I-League 2017: Albert Roca expects Mumbai to be defensive against Bengaluru FC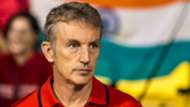 Speaking to the press ahead of Bengaluru FC's round three I-League clash against Mumbai FC, head coach Albert Roca felt that Mumbai FC will pose a definite threat to his team.
The Yellow Brigade are coming after notching a dramatic victory against Churchill which was sealed in injury time. Roca feels Mumbai FC will be on a high as a result and will be his side's biggest test yet. He said, "They will be mentally stronger after their 2 wins. They have the talent to create trouble for us. They will try to do so and we have to be prepared for a tough battle. But we're ready for them." 
The Spaniard also gave an insight as to how he expects the game to pan out on Wednesday. He expressed, "Let's see what they propose. Perhaps, they might be defensive because they are playing against us but they have good players and we have to be ready. Our intention is to win. They have players like Thoi Singh who have played for us. If they defend, we need to push them hard and create chances. If they attack, we need to defend. We will change our approach according to how the opponent plays."
Report: DSK Shivajians 2-0 Chennai City
The former FC Barcelona assistant labelled Santosh Kashyap's side as a counter-attacking team and asked his side to ensure they are not given opportunities to do so. "Mumbai have a lot of speed up front, with Victorino. We have to ensure we don't allow them to hit long balls for him to chase. Our philosophy is to build from the back. Even though it is risky, we will not change. We are not a counter-attacking team and we try to control the game. We have to be very careful and deny them chance to counter-attack. They will get their chances but hopefully they wouldn't punish us much." 
Roca revealed that midfielder Cameron Watson is fit to feature in Wedenseday's game while Lalchhuanmawia and Shankar Sampingiraj are injured. "Shankar (Sampingiraj) had some pain today. Fanai (Lalchhuanmawia)  has started training but not ready to start yet. There are no other injuries. Cameron (Watson) had a stomach pain last game but he is ready for the game." 
Before he signed off, the 54-year-old explained that Bengaluru's new signings are still adapting to his philopsophy and are not yet at the level where he wants them to be. "Yes, we've had new players since the AFC Cup final. But I'm happy with the squad. It is hard for the new players to understand the philosophy of the team but they are trying hard. They are striving to be at the level of the others as quick as possible. It is my job to ensure they are able to do that," he concluded.