World Cup
How will Mexico line up vs. Brazil?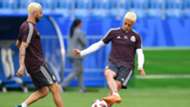 You can find Mexico's confirmed starting XI vs Brazil right here!
It's the biggest match of Juan Carlos Osorio's career as an international manager. Mexico is once again on the verge of a World Cup quarterfinal - the quinto partido. Brazil, however, stands in the path.
After a 3-0 defeat to Sweden in the final group match, Mexico has to get its mentality right. Osorio also noted, though, that he got his tactics wrong against Sweden. The smallest error from the manager Monday will mean El Tri once again fail to advance to the next round and fall short of the quarterfinals.
There are two big questions Osorio must answer:
Who will replace the suspended left center back Hector Moreno, who is out after being booked twice in the group stage?
 
Where will the versatile Miguel Layun play after three games on the right wing?
As we do before every Mexico match, Goal has projected three possibilities with the answers to those questions.
---
Traditional 4-3-3
---

With Brazil's strong midfield and attacking power, Osorio may look to play a relatively flat midfield three in an attempt to protect a pair of center backs who could struggle against an attack led by Neymar and Philippe Coutinho.
Those center backs should be Carlos Salcedo, who moves over to left center back with Hugo Ayala returning to the starting XI after playing there in Mexico's 1-0 victory against Germany to open the tournament.
In this projection, Layun goes in at right back in place of 20-year-old Edson Alvarez. That means Jonathan dos Santos makes his World Cup debut starting next to Hector Herrera and Andres Guardado. Instead of playing behind Javier "Chicharito" Hernandez, Carlos Vela moves out to the right wing where he can cut inside on the left but also track back to help Jona and Layun. When Layun is able to get forward after a transition, he and Vela can combine to take advantage of Brazil down a left side where Marcelo is unlikely to feature.
---
Layun remains in midfield
---

This lineup may be uncomfortably close to the one Mexico used against both Korea and Sweden - resulting in a 3-0 defeat in the latter contest. At the same time, Mexico players continue to make the point that it will be a very different game than the one against Sweden with Brazil ready to come out and play in contrast to the defensive style on display by the European side.
With that, the team would stay mostly the same with Alvarez back at right back after his rough day against Sweden. Layun would stay on the right side where he's been playing on the wing with Vela in the middle and Hirving Lozano on the other side. Chicharito goes up top looking to take sole possession of first place on Mexico's World Cup goalscoring chart.
---
Three center backs
---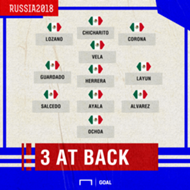 Osorio said Sunday that he was considering going with three center backs, but this would be a risky lineup against a team with as much firepower as Brazil. Still, the manager loves to find width, and this could give them a bit of wide play while still having protection for the back line. 
When Mexico plays with three center backs - in this case Salcedo, Ayala and Alvarez - there's a defensive midfielder in front of them protecting. Herrera's talents going forward may be wasted, but he'd have to stay disciplined against Brazil.
Layun and Guardado would also be tasked to stay at home but exploit the space when Brazil's fullbacks push forward. Vela again would be tasked with creating attacks for a forward line with Jesus "Tecatito" Corona adding speed to the El Tri attack.