Arsenal
'He's definitely leaving' - Arsenal fans panic as benched Alexis smiles after Liverpool goal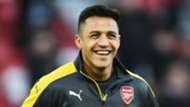 Arsenal fans have been in a state of panic over Alexis Sanchez's future all season as contract extension talks rumble on, but their worry was sent into overdrive against Liverpool on Saturday.
Vicious Zlatan could cost Man Utd dear
The Chilean was not only benched for the Premier League fixture, much to the surprise of football lovers up and down the country, but his reaction to Liverpool taking the lead raised eyebrows even more.
Roberto Firmino fired Liverpool in front from a Sadio Mane cross as the cameras quickly glanced over to Alexis, who appeared to smile as the Brazilian wheeled away in celebration.
The meaning of Alexis' cheeky grin? Who knows, but that didn't stop Arsenal fans taking to Twitter to convey their anxiety that the forward could be set to leave at the end of the season.
Alexis seems happy. He's leaving at the end of the season

— £ (@Iwobi_17) March 4, 2017
Alexis giving the 'they won't be my problem for much longer' look. pic.twitter.com/HmhvWeSC7k

— Pádraig(@VintageOzil) March 4, 2017
What does that smile even mean, Alexis?

— Ricky (@goon_ricky) March 4, 2017
Loooool Alexis smiling. Definitely leaving

— Azaz (@azaz_hye) March 4, 2017
Alexis is definitely leaving lmao seen his smile?

— Larz (@Koxielny) March 4, 2017
That smirk on Alexis he's deffo leaving.

— enes (@FaIseTen) March 4, 2017
Lol Alexis is definitely leaving us

— Bumski (@CharmingObum) March 4, 2017
My heart aches seeing Alexis smile for all the wrong reasons

— Özilinho (@WoolWitchGooner) March 4, 2017
Alexis' smile after Liverpool scored worries me

— Omeed Zarrabian (@OmeedZarrabian) March 4, 2017
Who saw Alexis smile?!

— Jay Patel (@JayPatelAFC) March 4, 2017