Manchester United
Herrera took the award, but Neville explains why Carrick was Man Utd's Player of the Year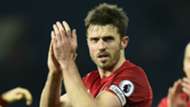 Michael Carrick got Manchester United's season "back on track" and it was he, not Ander Herrera, who was the club's true Player of the Year, says Gary Neville.
The Red Devils experienced mixed emotions during the 2016-17 campaign – their first under the guidance of Jose Mourinho.
Three trophies were lifted in Community Shield, EFL Cup and Europa League competition, but United fell well short in the Premier League – finishing sixth despite going 25 games unbeaten at one stage.
Carrick extends Man Utd contract
Neville believes it was Carrick who helped to ensure that the season can be considered a success, with the 35-year-old having been an unsung hero for much of his 11 years at Old Trafford.
The former United defender told Sky Sports: "I think it's taken a long time for Michael to be appreciated for his level of performance and the importance to the team and squad that he has, to this day.
"I think he brought the 2016-17 season back on track for United, at a point earlier in the season where, at times, the team needed stability and control. That changed every time he played, and Jose Mourinho recognised that he brought something to the team that isn't always visible.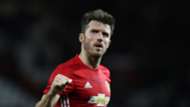 "I think when people come into the club, even coaches, it maybe takes them some time to understand that the team is just better with him in it. He composes everything, sorts everything out, makes sure there's a balance, serves passes into strikers with a perfect weight.
"There were more obvious contenders for the club's player of the season award, but Michael, for me, was the player who brought the season back on track and brought some order back to Manchester United.
Robson: Alexis exactly what Utd need
"He's a brilliant player and as a person, I just can't speak highly enough of him. If there's just one complaint I can have about him, it's that he's asked me to play in this testimonial, and the biggest compliment I can pay him is that if it was anyone else I'd have said no!"
Carrick made 38 appearances for United in the 2016-17 campaign, with his one goal coming in an EFL Cup win over Northampton Town.