Transfers
Giroud: Chelsea transfer links with strikers don't trouble me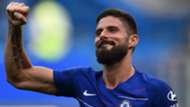 Olivier Giroud insists he is not bothered by speculation Chelsea will seek to sign another striker in the January transfer window.
The Blues have been linked with Inter Milan captain Mauro Icardi, Serie A top scorer Krzysztof Piatek and Callum Wilson of Bournemouth to give competition to current strikers Alvaro Morata and Giroud.
Morata has six goals so far this season while his French counterpart has netted only once, and neither centre-forward has nailed down a place in the starting XI yet. 
Giroud told the Evening Standard: "All the speculation is part of the sport, part of the job. We must expect good players, good strikers at big clubs. But the both of us just need to carry on and show the team is doing well with us.
"It's true that at times we didn't score. But, as I always used to say, some strikers need to do the runs for team-mates, to do the things that people don't see.
"We are fully committed to Chelsea. Even if sometimes it wasn't perfect, I will always give my maximum.
"I'm not worried about the future and I'm sure we will score more goals for the team. It (the talk of Chelsea signing another forward) doesn't trouble me, no. I am a competitor and I will do my best until the end of my contract.
"It has always been a fair competition between Alvaro and me, and now we are going to step up and reach a higher level of competition between us. Then it will be better for the team."
Morata signed at the beginning of last season from Real Madrid but failed to live up to his formidable reputation in the second half of last term.
The Spaniard claimed earlier this week that he remains confident he can turn things around and have a better goal return in the current campaign.
"I think I can prove more," he told Chelsea's official website. "In the past it wasn't easy for me, but this is a new season. I think it's not important if you score 25 or 30 goals, it's important you help the team to win.
"I prefer winning something and scoring less goals, but I will be so happy if I score a lot of goals and we win trophies this season. I'm a striker, it's our job and it's true that we need to score, and I am happy when I do."