Al Sadd
Ferreira: We have one and only aim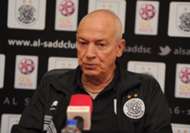 Jesualdo Ferreira, Al Sadd's manager, insists his team aim to win over Al Shahania in round 19 of Qatar Stars League on Thursday making it clear that it will be the only result acceptable for the team.

"All the remaining matches will be really difficult, not just for Al Shahania but for Al-Sadd as well," said Ferreira at the press conference. "Our aim is to go top and win the league title."

Ferreira confirmed the return of three players after they have fully recovered.

"The three of them will play against Al Shahania after they recovered completely and are physically and technically fit."

"My philosophy is clear and simple; depend on the full team, be it first string or substitutes."

"We are facing very strong teams and most of our players, old and young, are doing their work very well."

"The strong teams are the ones who have players training all week. Since last season, we have been depending on young players."

"I am confused now because there is Hamza who has been excellent recently and there is also Bounedjah who has returned."

"I am a fair man to all players but unfortunately, in some occasions, I face a great issue with regards to players in form. My aim is to always put the team first."

Ferreira also confirmed the absence of Jugurtha Hamroun stating that the Algerian player "is injured and will not play against Al Shahania."

"In the last six games, we have only lost once. All that has been while we depended on our youth products who have been with the team from last season."