MLS
WATCH: Erick Torres scores first MLS goal since 2014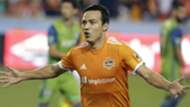 Perhaps all Erick "Cubo" Torres needed was to play under Wilmer Cabrera again.
The striker scored his MLS goal since 2014, burying a free kick in the back of the net against the Seattle Sounders.
WATCH: Christian Pulisic scores in Dortmund rout
The 20th minute strike got by the Sounders' wall, and caught keeper Stefan Frei leaning the wrong way, giving the Dynamo the 1-0 advantage.
Cubo sends home the free kick!@HoustonDynamo go up 1-0 on the defending champs. #HOUvSEA https://t.co/cY0jTLqUA0

— Major League Soccer (@MLS) March 5, 2017
It was Torres' first league goal since joining the Dynamo. The last time Torres had scored in MLS was with the now-defunct Chivas USA.
The manager for Chivas that season was Cabrera, who oversaw Torres' impressive season in which he scored 15 goals in 29 games. Perhaps the manager possesses the key to unlock the attacker's true potential.
As pleased as Houston is likely with one of its designated player possibly finding his form again, the Dynamo also are probably also pleased Romell Quioto, who scored an even more impressive goal to double their advantage.
Quioto, who moved from Olimpia on a free transfer, hit a beautiful blast from distance that left Frei with no chance and put the defending champion Sounders in a big hole heading into the half.
20 yards out
Far post

What a beauty from Romell Quioto. #HOUvSEA https://t.co/96we4eBpvo

— Major League Soccer (@MLS) March 5, 2017