Paul Pogba
Deschamps: Pogba will never win Ballon d'Or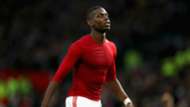 France manager Didier Deschamps has ruled Manchester United midfielder Paul Pogba out of the running for the Ballon d'Or - this year and every year!
The 23-year-old was named on the shortlist for this year's trophy having impressed with Juventus before sealing a world-record transfer to Manchester United, but is not the right type of player to lift the award, according to his international manager.
'Mourinho's time may have passed'
Lionel Messi has won four times and Cristiano Ronaldo twice in the six years since the current version of the trophy was created to honour the world's best player, and Deschamps feels that Pogba's position and lack of goals mean he will never triumph.
"He's a midfielder. The Ballon d'Or is for forwards or No 10s, apart from rare exceptions in certain competitions. They're players who score goals," Deschamps told RMC.
"Paul has scored some, he's going to score some, but he won't score three goals per match. That's not his game."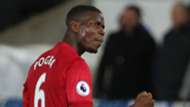 Deschamps' opinion reflects that of Pogba's club manager Jose Mourinho, who also claimed that only a goalscorer can ever win the coveted trophy.
"First of all, when you speak about the best players in the world you go immediately to the ones that score a lot of goals,'' Mourinho said.
"You don't give a gold ball to a goalkeeper. They gave a gold ball to [Fabio] Cannavaro once but because in that season he was captain of Italy, they were world champions, and there were not too many top players.
"[Paolo] Maldini never got a gold ball, [Javier] Zanetti never got a gold ball, top goalkeepers over history don't get a gold ball. You look immediately to the ones that score a lot of goals.
Griezmann: Aubameyang is a world class striker
"Can Paul score Ronaldo and Messi goals? Not even 25 per cent. I believe in a season he cannot score 20 goals. If to be the best player in the world means to score a lot of goals, that's not the point.
"He is one of the best midfield players, maybe I could say the best midfield player in the world.''