Juventus
Cuadrado polls internet after Ronaldo takes shirt number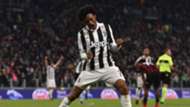 Juan Cuadrado has taken to the internet to find a new shirt number after giving his old one up to Cristiano Ronaldo, though team-mate Paulo Dybala may not be pleased with the results.
The Colombia international had worn No.7 for Juventus since arriving on loan for the second time from Chelsea prior to the 2016-17 season.
However, that number is also the one worn by Ronaldo, who has arrived at Juventus in a €100 million (£88m/$117m) deal from Real Madrid.
With the Portugal star now trading Madrid for Turin, Cuadrado handed his new team-mate the No.7.
"It is better to give than to receive! Blessings Cristiano in this new adventure," Cuadrado wrote on Instagram.
That leaves Cuadrado in search of a new shirt number for the upcoming season, and he's decided on an interesting way to potentially decide it – by throwing it open to fans on Twitter to help him make up his mind.
"And now… what number for next season?" Cuadrado wrote, also tagging Paulo Dybala and Juventus in the tweet.
Cuadrado listed four choices, 16, 21, 49 and 10. The last number, of course, belongs to the Argentina star, who may not be so willing to part with it.
Y ahora... ¿Qué número para próxima temporada? 🤔

E ora ... quale numero?🤷🏾‍♂️ @juventusfc @PauDybala_JR 😂😂😂 #ForzaJuve

— Juan Cuadrado (@Cuadrado) July 13, 2018
The No.16 was actually Cuadrado's first shirt number at Juventus, which he wore during his debut season with the club in 2015-16 while on initially on loan from Chelsea.
Currently, that number belongs to backup goalkeeper Carlo Pinsoglio, who must be willing to give it up, as Juventus originally had claimed Cuadrado would revert to it after giving his shirt to Ronaldo.
No.21 was worn by Benedikt Howedes last season, but with the defender's loan over, it should be available again.
It is also the number worn by Dybala when he first arrived at the club. More famously, legend Andrea Pirlo donned it for the Old Lady.
Interestingly, Cuadrado does not list the No.11 as an option, despite that being his number for Colombia in the World Cup, and his shirt he wore while he was with Fiorentina, prior to his move to Chelsea.
Douglas Costa currently wears the No.11 with Juventus, so perhaps the attacker is less amenable to a trade.
For those curious, Cuadrado wore the No.23 during the 2014-15 campaign with Chelsea, which did not work out as either side planned. So perhaps it is no surprise that number does not make Cuadrado's final four!