Croatia
Croatia can fancy their chances against England in the semis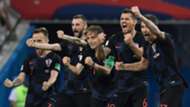 Needing two penalty shootouts to advance into the semi-finals, it was obvious to see that Croatia is yet to be at their best in these knockout rounds. While many felt that they should have been able to complete the job within 90 minutes given the quality they have, the tactics adopted by their opponents caused them massive problems and completely disrupted their flow of play.
It can be agreed upon that Denmark and Russia aren't exactly sides that play progressive football. These are teams that are rigid and built to frustrate opponents while looking to catch them out on the counter. Because of such methods, Croatia did not have many spaces to exploit and thus their world class midfield of Luka Modric and Ivan Rakitic found it hard to exert their influence.
Modric in particular was completely smothered by the Russians with three players hounding him. Indeed this caused the Vatreni to cede possession and puts them on the back foot. Croatia's strength is their midfield and if the midfield does not perform it jeopardises the team's chances of winning.  However in the group stages, it was a completely different Croatia and their qualities were on full display especially in the game against Argentina.
La Albiceleste aren't exactly a team who love to be negative and defend which was why it was perfect for Croatia. No doubt having an older and slower Javier Mascherano helped Croatia's cause greatly. But it was here that Modric and Rakitic were able to weave their magic and influence proceedings. Argentina's midfield simply couldn't cope with a rampant Croatian midfield that was direct and skilful. Modric was able to demonstrate why he is one of the world's best midfielders as the Croatian captain kept splitting the Argentine defence with his wide range of passing.
He capped it off by scoring his country's third goal to complete the rout. It is in this context that this is why the Croatians will fancy their chances against England. England is a more progressive side and is better with the ball than without it as compared to Denmark and Russia. Significantly this could be Croatia's blessing or curse depends on how they exploit it. England's midfield comprises of Jordan Henderson, Delle Ali and Jesse Lingard. Henderson will sit in front of the back four and offer them protection but Lingard and Ali will want to get forward. And this will leave gaps for the Croatians to exploit.
Indeed the game will be a fascinating encounter but Croatia will be rubbing their hands with glee. They know that their semi-final opponent could be much easier to break down compared to the past two. For this golden generation of Croatian comrades they will realise that this is the perfect time to write a new chapter in Croatian football history, and replace the memories of the 98 team with new ones. As they say in Croatian "Dolazi Kuci", which means it's coming home.