Bundesliga
Could RB Leipzig's massive debt see them fall foul of FFP?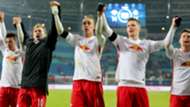 RB Leipzig's maiden season in the Bundesliga has exceeded all expectations, and should see them claim a place in the Champions League for 2017-18. But a massive debt on the books of the German club could potentially lead to sanctions under Financial Fair Play (FFP) legislation. 
Since its inception in 2009 the club has been heavily backed by energy drink giant Red Bull, who run the club through a subsidiary, Rasenball Sport Leipzig. 
Meet Argentina's greatest-ever forward line
That investment has allowed Leipzig to rocket up the German pyramid. Seven years ago they were in the fifth-tier Oberliga Sud, and since then have won four promotions to rub shoulders with the big boys. It has all come at a cost. 
Even in Bundesliga 2, according to a report by MZ, Leipzig's spending dwarfed that of its rivals. Its annual revenues in 2016 totalled €81.7 million, almost three times the league average. But the most telling part of the balance sheet comes in the liabilities column. 
In 2016, the report states, the club owed €58.92m to creditors. The vast majority of that figure, €52.38m, was due to none other than Red Bull. This money is not included as investment or sponsorship fees, as might be expected, but as a loan made by the parent company; which, logic states, must be paid back one day. 
Current FFP regulations are clear on the matter of debt. Leipzig are spending far more on salaries than the law allows, and could face punishment under FFP if this is not rectified. "The proceeds of commercials, TV marketing, trade and ticketing have to raise greatly, if Leipzig doesn't want to get problems with the financial fair play," economist Henning Zulch told MZ. 
With regards to the loan, Zulch pointed out that it was within Red Bull's own discretion to demand payment or not. If the soft drinks company wishes, it can renounce its claims on the money, reducing the red ink on Leipzig's balance sheet. This, however, had not occurred at the end of 2016. What's more, the club's newly found status as a large limited company under German law, based on revenue, means they will have to present detailed accounts to ensure nothing is out of line in the administration of the Bundesliga surprise package.