Chapecoense
Chapecoense fans pay emotional tribute to fallen heroes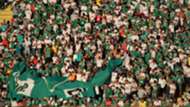 Supporters have gathered outside the stadium of Brazilian side Chapecoense to pay their respects to those who tragically lost their lives in a plane crash on Monday evening.
Fans flocked to the Arena Conda on Tuesday to honour their fallen heroes, with prayers offered for those taken too soon.
Emotional scenes saw those in attendance observe a moment of quiet reflection, before spontaneous applause broke out.
Tears were shed by many, with 76 members of the travelling Chapecoense party and media team losing their lives in the accident.
The Serie A side were scheduled to play a Copa Sudamericana final first leg against Atletico Nacional at Medellin's Estadio Atanasio Girardot on Wednesday but the plane, carrying 72 passengers and nine crew, crashed en route from Santa Cruz de la Sierra, Bolivia, leaving only five survivors.
Authorities reported that the plane declared an emergency at 22.00 local time (03.00GMT) with an electrical failure, before coming down in Cerro Gordo in the municipality of La Union. 
Heaven has a new team of champions
CONMEBOL have confirmed that the match - and all others in South America - will be postponed until further notice.
"The South American Football Confederation confirms that it has been notified by Colombian authorities that the plane on which the Atletico Chapecoense of Brazil delegation suffered an accident on its arrival to Colombia. We're in contact with the authorities and we are awaiting for official updates," it told the press. "The CONMEBOL family enormously laments what has happened.
"All activities of the confederation will remain suspended until further notice.
"President Alejandro Dominguez is currently in transit to Medellin."