Chelsea
Cahill: Chelsea dressing room delighted for Batshuayi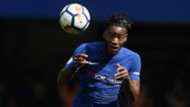 Gary Cahill said that Chelsea's entire dressing room is happy that Michy Batshuayi immediately silenced the doubters after he was criticised following a poor display against Crystal Palace.
Batshuayi came on the the 61st minute against Watford and scored two goals to help turn the match from 1-2 down to a 4-2 win in favour of the Blues.
Chelsea 9/2 to win Carabao Cup
Chelsea have risen up the table to fourth and Cahill says that Batshuayi's goals on Saturday will be a boost to him as he fights for minutes on the pitch.
"Yeah, I'm sure that himself he feels he's got things to prove and, as a player, that's exactly how you respond – he's come on and changed the game for us, scored two goals and arguably won us the game," Cahill said at Stamford Bridge. 
"I'm very pleased for him and I'm sure the manager and the staff are everyone are pleased for him. When you have a sticky patch, to do that is the best way to respond so fantastic and for strikers it's all about scoring goals.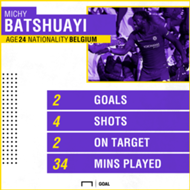 "It's the same for us [defenders], I scored eight goals last season and I feel like I can't get a sniff at the minute. As soon as you score one goal you feel like every time you go up you are going to score so I'm sure it's the same feeling for them. Two goals today will do him the world of good."

Batshuayi's brace means that he has seven goals so far this season, which is the same number as Alvaro Morata.
Chelsea's late flurry meant they avoided a third consecutive defeat in the league which would have likely ended their Premier League title chances.
The Blues have struggled for fluidity with injuries and tiredness setting in and Cahill tried to explain how Chelsea are trying to rebuild what they have lost in recent weeks.
"It's easy to play football when everything is going well and you are winning games back to back, winning, winning, it's the best feeling ever, you can go out there and express yourself you feel like you are not going to make mistakes," he added, as he spoke after his 250th appearance for Chelsea..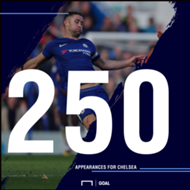 "The hardest thing is when things are not going so well and you have got to dig in and get results. Obviously this moment is one of them, hence why I said the result was good. But yes, when you are in a difficult moment, the mood is obviously going to be slightly down, because everyone is going to be disappointed and they want to win.
"For me it is not just a situation of being here, or this team, I would guess it is the same at every other big club. When things are going well, everyone's coming into training, having a lot of banter and joking about and enjoying things, and when you are not, it's not that feeling, because the expectation level is to win. That is natural.
"That is why there is no better feeling than getting a win and then getting a bit of consistency. Getting some consistency, some games won and getting back-to-back wins, and all of a sudden you notice that that lifts.
"But at the minute, when you into this game on the back of two defeats you can feel that weight, so it is about character and we have shown that today. Of course the spirit is still there. It is easy to play well when things are going rosy. The difficult moments are when you need to dig in. 
"Today the performance was not great, no sugar coating that, but the three points was all that mattered. Onto the next one and build a bit of momentum that way, and all of a sudden when you get a few back-to-back wins, you will see how everything lifts and we get back to expressing ourselves as we usually do."