Arsenal
Bellerin insists Arsenal boo boys will make him stronger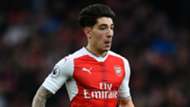 Hector Bellerin admits Arsenal are going through a "bad patch" but remains adamant that criticism will make him stronger.
As the Gunners have toiled over recent weeks, a number of senior stars have found themselves in the firing line.
Arsene Wenger has incurred much of the fan wrath, but Bellerin is among those out on the field to have been subjected to terrace taunts and has been dropped to the bench for Monday's Premier League clash with Middlesbrough.
Wenger: Bellerin criticism is unfair
The Spaniard acknowledges that his standards have dipped, but he has vowed to work his way back to form and silence those who have questioned his value and commitment to the cause.
"In other seasons, we've gone through bad patches, but probably not as bad as in this one," he told Arsenal Player.
"You need to learn to deal with people saying bad things about you and you need to learn to deal with stuff that's not happened before.
"It will make me stronger, that's how I see it. Some people can be destroyed or collapse but I think I and everyone at the club needs to look at it positively.
"We just need to do our job on the pitch. We know that fans are angry, we know that people want results because we're Arsenal and that's what's expected from us.
"But it's been a long time that we went through a patch like this so we need to make sure that we recover from it. Trust me, we're trying as hard as we can."
He added: "There's a lot of doubt, we're not as confident as before but we just need to get ourselves together.
Bellerin still a Barca target for a reason
"It's important that everyone at the club unites - the players, the fans, everyone outside. We have to be as one together because if we're not, people are trying to divide us and that's what's going to make us break.
"We just need to be together and then if we want to push forward, that's the only way."
Arsenal will get another opportunity to start righting a few wrongs at the Riverside Stadium, with Wenger's side having slipped to seventh in the standings.