Bundesliga
Bayern Munich's rivals face relegation to fourth tier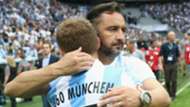 1860 Munich, the city rivals of Bayern, are facing up to life in the fourth tier of German football after owner Hasan Ismaik refused to inject the necessary funds required for the club to play at the third level.
EXCLUSIVE: 
Real Madrid goal offer
The Allianz Arena outfit were involved in the qualifying stages for the Champions League as recently as 2000, but they have endured a wretched spell on the field, with the nadir arriving last week as they were defeated in a relegation playoff by Jahn Regensburg.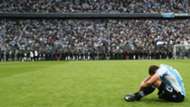 Their 2-0 defeat at home on Sunday, which led to a 3-1 aggregate loss, was watched by a crowd of over 65,000, yet it was marred by crowd trouble as play was suspended and several police officers "slightly injured". 
Despite such enthusiastic support, Ismaik has refused to spend the reported €10-11 million that would allow them to get a licence for the third tier.
Indeed, there is no guarantee even that they will be playing in the fourth level next season, with a drop to the fifth tier even possible for the German champions of 1966.
Nevertheless, Rainer Koch, who is the head of the Bavarian Football Association, says that he does not envisage any difficulties and expects 1860 to play in the Regionalliga Bayern.
"A new authorization procedure must be passed but I can not see any insurmountable obstacles," said Koch, who is also the vice-president of the German Football Association (DFB).