Transfers
Atlanta United signs Tyrone Mears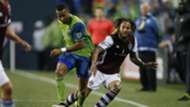 Atlanta United has announced it has signed fullback Tyrone Mears. Atlanta previously acquired Mears' rights from Seattle in exchange for $50,000 in general allocation money.
Mears, 33, spent the past two seasons with the Sounders, helping the club win the 2016 MLS Cup. The English defender was a stalwart in Seattle, starting 65 of the team's 68 league matches in 2015 and 2016. 
Beasley brings veteran presence, left back option to Arena's second U.S. stint
"We're happy to add another veteran piece to our back four," Atlanta United president Darren Eales said in a club release. "Tyrone has a great deal of experience and has helped his clubs achieve success wherever he's played, including winning MLS Cup this past season and also helping his teams secure promotion twice while playing in England."
Prior to moving to MLS, Mears played with several English teams at the Premier League and Championship level, including Bolton, Burnley, Preston North End, West Ham and Derby County.