Arabian Gulf League
Al Dhafra investigate player's offensive comments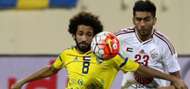 Emirati club, Al Dhafra, announced that they requested the presence of their player Abdullah Al Naqbi to investigate the truth behind the disrespectful media statements allegedly given by him.
The club asserted that the player will be punished if the allegations were proven to be true, as he was said to have mentioned his dissatisfaction with hearing of his friends' success with other clubs, and that he would like to enter a new challenge to get trophies.
The player reportedly mentioned being linked with Al Jazira but negotiations didn't bear fruit.