Johor Darul Ta'zim
Afiq, Nazmi and Sumareh slapped with bans but Alves escapes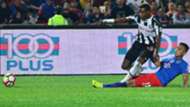 ---
 BY       OOI KIN FAI      Follow on Twitter
---
Football Association of Malaysia (FAM) through the Disciplinary Committee (DC) has handed down punishment to the offenders in recent matches in the Super League and FA Cup. In a statement released on Tuesday, FAM meted out suspensions to four players and cautioned another.
Johor Darul Ta'zim's (JDT) Afiq Fazail will have to serve a one-match ban for his kick out at Mohamadou Sumareh during the FA Cup quarterfinal second leg between JDT and Pahang last Sunday night. The retrospective action was taken after the match referee, Zulkifli Ahmad failed to dish out any punishment after the altercation occurred. Afiq will be unavailable for selection in JDT's match against Melaka United on 6 May.
For his part in the altercation, Sumareh also received a one-match ban that will take place during Pahang's FA Cup semi-final clash against Negeri Sembilan on 30 April. Being suspended despite being kicked in the chest, Sumareh's plight is likely to raise more questions on the decision by the DC.
Poor refereeing overshadows gripping JDT-Pahang FA Cup encounter
Retrospective action was also taken against T-Team's Fakhrurazi Musa who's reckless challenge on Rizal Ghazali also went unpunished by match referee, Suresh Jayaraman. The midfielder who also picked up his third yellow card of the campaign during the match - will now have to serve a two-match ban - where he'll miss matches against Selangor on 26 April and Perak on 6 May.
Having lashed out on Fakhrurazi with a punch to the back of the head, Rizal will have no qualms about his own punishment. The Kedah right back will miss the Perak game on 26 April as well as the PKNS FC game on the 9 May.
All of the above decisions are explained in details through Subkhiddin Salleh who sits on the Referees Committee in what is turning out to be his weekly explanatory of controversial refereeing decisions from matches played in the week. 
Mora slams the referee after JDT bow out of FA Cup
However, despite Subkhiddin clearly pointing out Nazmi Faiz's part in the altercation in which the midfielder kicked out from behind at Matheus Alves. Having initially escaped punishment when the original decisions were announced on Tuesday, the DC has changed the decision just a day later on Wednesday and Nazmi will out sit out of the Melaka United match.
Yet, it wasn't the only discrepancy between Subkhiddin's explanation. In his explanation, Subkhiddin also mentioned the kick out done by Alves on Afiq when the latter was lying down on the ground. This happened right before Nazmi came running in to kick at Alves and probably what instigated the action from the JDT midfielder.
All in all, the manner in which matters have turned out doesn't make for good viewing. The fact that retrospective actions have to be taken means that the match officials did not deal with those situation accordingly - whether because of incompetency or otherwise.
JDT 2 (3) Pahang 1 (4): Soumareh's late header sends Tok Gajah to semis
One of the most admired referee in the world, Pierluigi Collina is currently in Kuala Lumpur for a Asian Football Confederation (AFC) conference. One wonders what he would think of all these.