Manchester United
Zlatan's refusal to be the bigger man invited FA to ban him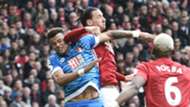 ---
COMMENT
---
Common sense has prevailed. The FA has announced on Monday that both Zlatan Ibrahimovic and Tyrone Mings have been charged for the ugly incidents which occurred at Old Trafford on Saturday and, in truth, it is the just conclusion.
Manchester United's latest concession of two points at home came against the backdrop of a petulant tussle between their star striker and the Bournemouth centre-back which saw both overstep the mark in a dramatic way before half-time.
Mings brutally stamped on the Swede's head having glanced at the prone striker as he hurdled Wayne Rooney. Moments later, Zlatan took retribution into his own hands by elbowing Mings in the side of the head. While both were lucky not to be shown the red card for their actions, they were both destined for suspensions.
Referee Kevin Friend has admitted to not having got a clear look at either incident, and the lack of punishment there and then was enough evidence of his failure to see what had gone on. Now, both are set to pay the price.
Mings, rightly, is set to face a huge ban. The FA's statement on Monday said of the 23-year-old: "The FA has submitted a claim that the standard punishment that would otherwise apply for the misconduct committed by the Bournemouth defender is 'clearly insufficient'."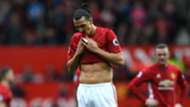 Never has a truer word been uttered. His decision to land his studs on the head of Ibrahimovic was brutish and cowardly. A three-match ban would not just be 'clearly insufficient'… It would be utterly inappropriate in a game which pertains to holding a sense of moral values. Any impressionable youngsters watching that footage could have been forgiven for believing it was an entirely justifiable course of action during a game of football had the FA not come to the conclusion that Mings needs banning for longer.
Man Utd duo in Worst XI of the week
But, while Mings will justly receive a longer spell on the sidelines than Ibrahimovic, the Manchester United man is more culpable in many ways. His elbow to the side of the defender's head was an unforgivable, pre-meditated act of revenge. Where does he get off taking the law into his own hands?
All he has done is invite the authorities to ban him for three games for which Jose Mourinho could seriously have done with his presence. The Portuguese has not overlooked his striker even once in the Premier League this term but will now have to plan without him for the clashes with Middlesbrough and West Brom.
What's more, Ibrahimovic is now set to miss the FA Cup trip to Chelsea next Monday. It is a game which could help to shape United's entire season. Victory at Stamford Bridge would not only take them one giant step closer to finishing the campaign with four pieces of silverware but also prove to the football world that United under Mourinho can beat anybody on their day, including the runaway league leaders.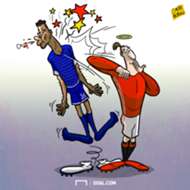 His lame attempt on Saturday to deflect blame from himself to Mings for their collision convinced nobody. "I jump, I protect myself, I jump very high, he jumps into me. I think he jumps backwards and I jump straight up and unfortunately he jumps into my elbow," said Ibrahimovic but nobody bought it.
WATCH: Payet scores facing the wrong way
This is a man who has received 13 red cards in his career, several of which have been administered for similar acts of violent conduct. He is somebody who knows how to deal out punishment on the pitch but is also no stranger to receiving suspensions as a result.
Mings will now miss a hefty run of games in Bournemouth's relegation battle, but Ibrahimovic's inability to rise above it and prove he is the better man means that Manchester United will now have to revert to Plan B at a time when nobody is truly convinced they have one.
If United are knocked out of the FA Cup and lose vital ground in the Premier League during his absence, much of his incredible work this season will have been undone.