Liverpool
What have Liverpool and Lyon got that Man City and PSG don't?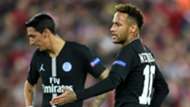 A charge often levelled against Paris Saint-Germain when they fail to win matches in Europe is that they simply don't get the kind of challenge they need in Ligue 1 in order to compete with the continent's best teams.
It's all well and good hitting three and four goals every week in France against teams with fractions of their budget but there exists a perception that PSG cannot raise their game when required.
It's believed that the French champions are incapable of playing like they are 1-0 down, which is a problem, as it transpires, when they go 1-0 down. Certainly, to watch their game at Anfield against Liverpool was an exercise in frustration.
They have some of the very best players in the world in their positions – certainly their front three and maybe Thomas Meunier and Presnel Kimpembe too – but the way the team cajoles the ball from side to side without making an impact is wasteful.
Neymar on an off-day is a liability. He appears to make little or no effort to track his man or even put in anything other than an apologetic challenge when faced one-on-one.
Anfield is unique and is now one of the most difficult places in Europe for visiting teams to go. The phrase '12th man' is thrown around a lot but one arena in which it's not a cliché is Anfield on a European night.
Liverpool have a history in this competition which gives their fans an expectation whenever they play. The players respond to that.
They took to PSG in an old school manner the other night. They won six corners in the first 10 or so minutes and hung damn near every one of them around the goalkeeper Alphonse Areola. To test him. To see if he fancied it.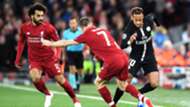 James Milner hit Neymar so hard in one early tackle that the collision of leg on leg was picked up on the pitch-side microphones.
There was no respect in the challenge and certainly no red carpet was laid out for the world's most expensive player or his cohort on the other side of the attack – the World Cup-winning Kylian Mbappe.
Liverpool haven't spent as much as PSG have on their team. There have been big signings but sensible ones. Of all the starters the other night, only Alisson was a new face.
There is more to Liverpool than stacking up superstars. That scattergun, top-heavy policy has brought significant hurdles for PSG because they have more than €400 million worth of talent up front but are playing Marquinhos in midfield and Juan Bernat at left-back. They can't play a €100m player in every position.
Liverpool have something that PSG don't. They have identity and a sense of collective purpose. It drips from the walls of Anfield and that helps. But it is also evident in every player. They work tirelessly for each other in and out of possession.
Their front three is well regarded for their goals first and foremost but their standards are set in other departments too. They run hard and compete.
Players seem to have to graduate into Jurgen Klopp's first-team plans – consider how long it took for Andrew Robertson and Alex Oxlade-Chamberlain to break in last season and how this season's new signings have had their minutes restricted. There are levels that must be reached – and continue to be reached – for that trust between coach and player to be maintained.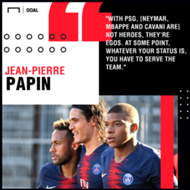 Look at Klopp's treatment of Salah the other night. The Egyptian forward played poorly and gifted PSG their second goal. He was hauled straight off.
It is hard to see Thomas Tuchel behaving in a similar manner with Neymar. If the PSG coach tried to teach Neymar a lesson, you get the feeling the Brazilian would hand in a transfer request.
When PSG suffer, their talented players don't appear to have the guidance, the gumption or the requisite fear to get them clear of danger.
As striking legend Jean-Pierre Papin told Le Parisen, "With PSG, [Neymar, Mbappe and Edinson Cavani are] not heroes, they're egos. At some point, whatever your status is, you have to serve the team.
"There's a difference between stars we see abroad and those we have in France. In France, we've got the impression that they're impossible to manage. 
"Why can Liverpool put their players into line and not here? When Neymar was playing with Barcelona, he defended from time to time."
But Neymar and PSG will win Ligue 1 again, and win it easily. Champions League seasons can be decided on a red card, a dud offside call, a piece of magic. But form over the course of a league season usually dictates that the best team wins.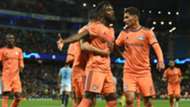 And PSG are the best team in France. Lyon won't come close to matching them, for example, but like Liverpool they have something PSG don't.
Coach Bruno Genesio came into the game at Manchester City on Wednesday under severe pressure. No one around Lyon really expected anything from the fixture. They brought 600 fans. This season alone they have lost to Reims and drawn with Caen.
Genesio would not have been sacked after a defeat here but a loss against City and another against Marseille this weekend would have had plenty of question marks over his reign.
Lyon survived and they worked hard for the 2-1 victory they achieved. In Tanguy Ndombele, they have the outstanding young central midfielder in Europe. In Nabil Fekir, they have a world-class schemer.
They will not match PSG over the course of a Ligue 1 season but playing like that they would probably knock them out over two legs in Europe. There was no coasting. There was grit and hard work and an adherence to the game plan. 
Like it was for PSG the night before, this was a bad day at the office for City. Who knows what might have happened if Kevin De Bruyne had been fit or if Pep Guardiola had been allowed to coach his team from the sideline?
There is a worry, however, that they are still lacking something in Europe, now that they've now lost their last four games in the Champions League. That is an unwanted record for Guardiola – a winner twice in this competition – and for a club lavished with such spending.
They are still a good bet for the Premier League but have a smaller margin for error in Europe. Maybe it's because English teams expect so little against them that the fear of defeat isn't so profound.
And maybe the same could be said for PSG. But nobody ever says that City have it too easy in England.