Transfers
Vinicius Junior reveals plan to keep Real Madrid waiting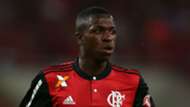 Vinicius Junior has outlined his plans to keep Real Madrid waiting before completing a €45 million move to Santiago Bernabeu.
Los Blancos have a deal in place which will eventually bring the 17-year-old forward onto their books from Flamengo.
Real moved early to reach an agreement in order to keep a highly rated talent out of the clutches of a rival.
The Liga giants were reportedly keen to get the Brazilian starlet onto their books next summer, allowing him to start acclimatising to new surroundings, but the youngster has suggested that he will delay that process by spending 2018 chasing down a Copa Libertadores crown with his current club.
"Nothing has been decided yet and I've only been on holiday for three days so my plan is to start thinking about the future in the new year," Vinicius told reporters in his homeland.
"I plan to stay here through to the end of 2018 and after I win the Libertadores, then it'll be time to move to another club."
Real's belief in Vinicius is highlighted by the fact that they were prepared to invest so much in him.
The deal agreed with Flamengo is set to make the teenager the seventh most expensive acquisition in the club's history.
Of the galaxy of stars that the La Liga champions have signed over the years, only Gareth Bale, Cristiano Ronaldo, James Rodriguez, Zinedine Zidane, Kaka and Luis Figo have cost more.
Much will be expected of Vinicius as a result, but extending a spell in his native Brazil may be no bad thing as he needs as many senior minutes under his belt as possible before forming part of Zinedine Zidane's squad in the Spanish capital.