WTF
VIDEO: Russian team enlists bear to kick off league match!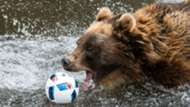 Russian side Mashuk-KMV caught the headlines at the weekend when they used a tamed bear to kick off their Professional Football League match. 
Video footage taken at the stadium in Pyatigorsk shows the bear handing the ball to the referee in front of a dumbstruck crowd. 
The official, unsurprisingly rather nervous at the prospect of interacting with a potential killing machine, made a swift exit and left centre stage to the bear, who received a standing ovation after leading the applause. 
The announcer at Pyatigorsk's Central Stadium joked that the bear, named Tima, would open matches at the upcoming World Cup.
Unfortunately for Mashuk, however, any attempt at intimidation they may have intended backfired as visitors Angusht Nazran cruised to a 3-0 victory in the third-tier clash. 
Watch the polarising video above and let us know what you think!