Videos
VIDEO: Mainz's Donati pours cold water on his... crotch?!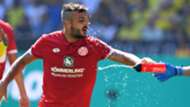 Mainz have found themselves in hot water in the Bundesliga's relegation battle and one man in a hurry to cool down is Giulio Donati.
WATCH: Did Peppa Pig predict Benteke's goal?
Coming on after the break in his side's 2-1 defeat at Ingolstadt at the weekend, the right-back inexplicably pulled open the front of his shorts and proceeded to squirt cold water on his crotch whilst receiving tactical orders from coach Rouven Schroder.
Maybe it calms the nerves?