Africa Cup of Nations
Top FIFA official resigns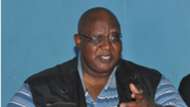 Long serving and popular FIFA regional Development officer based in Botswana Ashford Mamelodi has stepped down.
Mamelodi, widely regarded as 'Mr Fix' it in the region and a great friend to the Kenyan Football Federation cited poor health and age as the primary reasons why he decided to step down.
A popular and regular visitor to Kenya over the years in his missions to streamline the working relations of the local Football Association, including overseeing the last elections, he is credited to have brokered many truces that has in the past dogged down football administration in Kenya over the years.
Gor Mahia arrive in Sudan minus foreign players
He announced his retirement just soon after the world football governing body decided to relocate the development office that covers the East and Southern Africa region to Johannesburg in South Africa which is part of FIFA President Gianni Infanitino's sweeping reforms as this now reduces the development offices in Africa from 4 to 2.
 "The relocation of the (FIFA) office from Gaborone Botswana to Johannesburg has been on the cards for two years and I saw this as an opportunity (to retire). I said this was time to think about life after FIFA.
"I felt, in terms of service to the game, that I had done enough. I am not getting any younger and I didn't want to be pushed," Mamelodi said.
Western Stima move on after keeper exit
He added, "FIFA there is creativity and innovation, and I leave with no regrets I enjoyed working with FIFA and other national associations and happy with the various development Projects that we started during my tenure as the regional development officer."
Among his major achievements in Kenya was the building of the FKF Goal Project, the laying of the artificial turf at the Nairobi City Stadium, as well as the Kisumu County Stadium during the tenure of former Presidents Mohammed Hatimy and Sam Nyamweya.